Creative Use of Vacant Land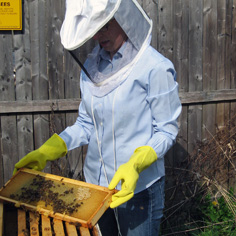 Meredith Meyer Grelli has ideas about some creative reuses for vacant land. Her vision for a handful of Pittsburgh's 14,000 vacant lots involves bees — lots of bees. The idea came to her after working at Carnegie Mellon's Western Pennsylvania Brownfields Center.
"Humans rely on bees' pollination for more than the blooming flowers. Their pollination provides approximately one-third of each bite of food we take," explained Meyer Grelli, who founded Burgh Bees in 2008 as a first-year MBA Tepper School of Business student to foster bees and beekeeping in the Pittsburgh area. "Now it is more important than ever that we help bees, as they face mono-cultural food provisions, and invasive pathogens and parasites," she said.
The group, which received an $8,000 Sprout Fund grant in February, is currently training 35 aspiring beekeepers in demonstration apiaries in Pittsburgh's Hazelwood, Braddock and Mt. Washington neighborhoods.
"Burgh Bees is intent on developing gentle but strong urban bees, in addition to developing urban beekeepers," said Meyer Grelli.
Longer term, Meyer Grelli is working with the City and Urban Redevelopment Authority to identify a site for hosting a larger community apiary. Anyone who graduates from Burgh Bees' intensive training program will be able to keep a hive of their own, much like they would a plot in a community garden.
Growing up, Meyer Grelli watched her grandfather tend hives in the North Hills of Pittsburgh. In 2006, she set out to maintain the family tradition by learning the craft herself at an urban apiary in Chicago.
"My husband and I moved to a beautiful and yard-less house when we moved back to Pittsburgh. The biggest hurdle to keeping bees, for us, was finding a place to put the hives," she said. "We figured this was probably a hurdle for a lot of potential beekeepers in the city. And it's a silly hurdle in Pittsburgh, given the kinds of open space we have to work with."
She added, "The community apiary is intended to meet that need and to provide the physical space to facilitate mentorship."
Although honey bees do wonderful things for city gardens and local honey supplies, Meyer Grelli said the city offers as much to bees.
"In the suburbs and in rural areas, bees are surrounded by pesticides spread over lawns and farms," said Meyer Grelli. "The city, on the other hand, provides a less fussed with and more diverse array of nectar and pollen sources for bees to feast on, especially along the riverbanks."
Related Links: Western Pennsylvania Brownfields Center  |  Burgh Bees Website  |  Burgh Bees Blog
---