Scholars in Copenhagen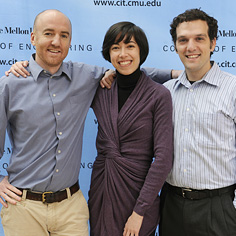 World leaders convened in Copenhagen recently, to focus on remedying the world's climate woes. So, too, did Carnegie Mellon students.
"This is a wonderful opportunity to see how other universities and the world plan to continue the dialogue about climate change since we will be in Europe during the Copenhagen conference," said Vanessa Schweizer, a Ph.D. candidate in the university's Department of Engineering and Public Policy, where she conducts research about climate and energy policy.
Serving as the delegation leader, Schweizer was one of three Carnegie Mellon graduate students participating in workshops with student teams from around the globe, including organizers from Yale University and the University of Copenhagen, which hosted the event.
The student conference was designed to shadow the United Nations' two-week long Climate Change Conference, drawing more than 100 international leaders, including U.S. President Barack Obama. Discussions at the conference (thru Dec. 18) included setting targets for controlling emissions of carbon dioxide and other global-warming gases, and supporting clean energy technology and environmental projects in poor nations.
"The conference provides an opportunity for Carnegie Mellon students to share with peers globally our activities and plans for reducing carbon emissions at Carnegie Mellon, and to learn from others about new approaches to consider," said David A. Dzombak, team organizer and faculty director of Carnegie Mellon's Steinbrenner Institute for Environmental Education and Research, which funded the student team.
"All three of our students have been involved with efforts at Carnegie Mellon to inventory our carbon emissions and to develop specific emission reduction goals and implementation plans. They are excellent representatives for our community, and we look forward to building on the new knowledge they bring back from Copenhagen," Dzombak said.
Justin Parisi, a dual master's degree student at the Tepper School of Business and the Department of Civil and Environmental Engineering, also attended. As a student member of the university's Green Practices Committee, he's helping to lead the development and implementation of a campus carbon emissions reduction plan.
In advance of the trip, Parisi said he was looking forward to "seeing how we can share some of the novel work we do at Carnegie Mellon." Parisi is also vice president of Environmental Initiatives for Carnegie Mellon's Net Impact chapter.
Mike Blackhurst, a graduate student in the Civil and Environmental Engineering and Engineering and Public Policy departments, has a special interest in harnessing the collective energy from the student conference.
Blackhurst's research involves evaluating strategies to reduce the environmental impacts of urban areas, with a particular emphasis on energy efficiency, water management and carbon emissions. He also served on the board of the non-profit Green Homes in Austin, Texas, and is active in Pittsburgh's local climate initiatives.
The student teams were charged with sharing green projects from their respective universities and developing new projects and sustainable solutions for a global database.
Related Links: Video: About the Students  |  Video: Students' Goals  |  Environment at Carnegie Mellon  |  Steinbrenner Institute  |  Civil Engineering
---