Alums to Celebrate Past, Future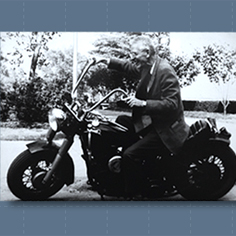 Mark Seltman (A'69) picked up his mail, chuckling at a photo on an invitation to Carnegie Mellon's Industrial Design Program's 75th Anniversary.
There was his old professor, smiling atop a motorcycle Seltman assembled for class. The photographer? Seltman himself.
The design alum returns to campus Oct. 31 for the special occasion — honoring the first degree-granting industrial design program in the country.
After graduation, Seltman went on to a successful career both teaching and designing everything from housewares to window coverings. Checking his products in Bloomingdale's one day, he had a life-changing epiphany.
"I suddenly realized I had depleted too many of my planet's natural resources," he recalled.
He began creating with recycled materials and teaching a new class he entitled 'Designing with Garbage.' The media was intrigued, and he quickly became known as the 'Guru of Garbage.'
Seltman has since moved on to other pursuits but still 're-creates' for his country house in Vermont.
Today, the industrial design program itself is a home for the environmentally-conscious. For more than 10 years, "sustainability has been an area that we actively explore," said Mark Baskinger, associate professor of design and organizer of the celebration.
Environmental awareness isn't taught through specific courses, but integrated throughout the curriculum.
"From day one, our students consider not only our relationships with products, but our relationships with each other, and to the environment," Baskinger explained.
Classes are taught using the apprentice model, in which faculty demonstrate skills right alongside students. The school is a pioneer of 'human-centered' design, teaching students not just the 'how' to make things, but the 'why.'
As Baskinger explained, "We really try to get the students to espouse the idea that, hey, we're designing things that are going to affect people's lives."
The school is currently in the process of exploring the next big vision for the curriculum.
Seltman still appreciates one of Carnegie Mellon's enduring priorities. "I give Carnegie Mellon credit for its open-minded, problem-solving kind of focus," he said.
The anniversary events include open studios, tours, a panel discussion and a reception. For more information, visit www.design.cmu.edu/id75.
Related Links: ID 75th  |  School of Design  |  Industrial Design Program  |  About Mark Baskinger  |  Environment at Carnegie Mellon
---