Joshua Kresge's Geothermal Startup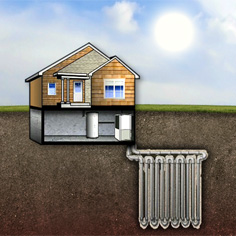 Joshua Kresge (TPR'10) knows how to give it all he's got — as star safety on Carnegie Mellon's Tartans football team, active member of Beta Theta Pi fraternity, or dreaming up new ventures at the Tepper School of Business.
The budding entrepreneur started in middle school with lawn mowing companies. Before he graduated from high school, he'd launched HammockHutch.com, a website selling hammocks and accessories.
Kresge's latest venture was hatched while he and his father struggled to research alternative energy options for their family home. Recognizing opportunities in the fragmented geothermal heat pump industry, Kresge launched Kinertia — an industry consulting firm. To increase public awareness, he designed GeothermalGenius.org.
Kresge's ideas won him the Tepper Venture Challenge last spring and led to start-up funding from the Idea Foundry, a Pittsburgh non-profit.
In a geothermal (or ground source) heat pump system, a water/anti-freeze solution is circulated through a series of underground polyethylene pipes, where the earth's temperature is naturally maintained year-round at approximately 55°. The liquid can then be piped into the home where a heat pump extracts the heat and circulates it as warm air throughout your home.
During those extra frigid winter days, electric heat supplements the geothermal to ensure consistent comfort. Using the heat from the earth represents a significant savings — up to 70 percent. With the flip of a switch, the geothermal system becomes air conditioning in the summer since the ground is much cooler than the outside air.
Advantages of geothermal heat pumps are numerous. The EPA has declared them the most environmentally clean, energy-efficient and cost-efficient systems available. (Learn more.) They're safe and quiet. Moreover, the government recently enacted a 30 percent tax credit for installation.
Sound futuristic? Kresge laughingly notes these systems have been around more than 60 years and calls it 'caveman technology,' as early man ducked into caves to stay warm in winter and cool in summer.
Kresge credits the Carnegie Mellon community for supporting his efforts, and accordingly, plans to keep his company in Pittsburgh after graduation.
"I have access to tremendous resources. Some of the smartest people are here and willing to help you," Kresge said. "When I need help with my website, I have vast computer science resources. When it comes to business strategy and negotiations, there is a robust entrepreneurial system to tap into. A big reason why I'm going to stay and set up shop in Pittsburgh is the Carnegie Mellon network."
In addition to the Tepper School of Business's Donald H. Jones Center for Entrepreneurship and Pittsburgh's Idea Foundry, Carnegie Mellon's Center for Technology Transfer helps researchers bring ideas into the marketplace.
Kresge's advice to other young entrepreneurs?
"Go for it. There's no textbook on it, so you should just try. That's what being an entrepreneur is all about — trying."
Related Links: Tepper School of Business  |  Kinertia.com  |  GeothermalGenius.org  |  HammockHutch.com  |  Environment at Carnegie Mellon
---