Blending Idealism w/ Practicality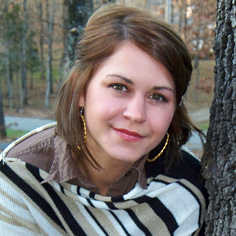 When Molly Peters-Stanley (HNZ'09) applied for a position at Ecosystem Marketplace, competition was tough. As part of the application process, the Heinz College graduate was required to write an article for publication. She chose a familiar subject — Australian climate policy — and got the job.
"I find that climate policy captures both my idealism regarding resource protection and also the technical skills and practical policy tools I acquired at the Heinz College," she said.
In the summer of 2008, Molly had traveled to Carnegie Mellon's campus in Adelaide, Australia, as part of the Heinz College's internship program. Working in the Department of Premier and Cabinet gave her valuable insight into climate policy in an international context.
While she was there, she researched and wrote a report on the intersection of the state's greenhouse gas reduction policies, the voluntary carbon market and Australia's proposed Carbon Pollution Reduction Scheme — their cap-and-trade system. She was then hired to work full-time during the fall semester to research an indicator to measure sustainability for the state's long-term strategic plan.
The most interesting thing she says she accomplished there was working with the Climate Group to compose the States and Regions Statement of Action on Climate Change. The statement of action was negotiated and signed by 33 international leaders, solidifying states' and regions' commitment to action on climate change in the lead-up to January's global negotiations at Copenhagen.
"It was thrilling to be a part of a multinational agreement involving provinces in China, some states in the U.S., Europe and Australia," she said. "Climate policies, particularly market solutions like cap-and-trade, introduce many issues to be solved as the policies are put in place. It's important to understand and scrutinize environmental policies to ensure that they meet their ultimate goals, including environmental protection and economic stability."
Though she is a recent addition to the work force, she already can't imagine doing any other kind of work.
"I feel a strong sense of urgency to promote energy innovation, entrepreneurship and sustainable resource use now — to ensure that we and our future don't suffer from our inability to act," she said. "I want to always feel a certain kind of satisfaction about my work, particularly in knowing that all those hours of my adult life will have contributed to a good that is evenly disbursed across geographic and political boundaries."
Related Links: Heinz College  |  Environment at Carnegie Mellon
---