Student Posters Sway Shoppers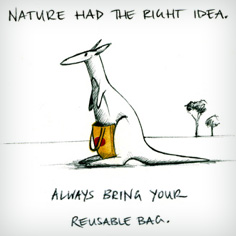 Posters created by Carnegie Mellon School of Design students conveying the importance of reusable shopping bags recently appeared in Giant Eagle stores in Maryland, Ohio, Pennsylvania and West Virginia.
Carnegie Mellon instructors Melissa Cicozi and Sarah Johnson led Design and Social Change students in the project.
"The goal of this project is to encourage shoppers to actually use their reusable shopping bags," Cicozi said. "Giant Eagle wants powerful messages to hang in their stores. The messages are likely to appear on the Giant Eagle website, as well as print and TV ads."
The students set out not just to encourage shoppers to use reusable bags but to also examine how they could help change perceptions and habits.
"Many shoppers have reusable bags, but they might forget to bring them or feel that it's just plain inconvenient," said Gee Sun Kim, a School of Design sophomore majoring in communication design. "Rather than just focusing on the message 'Oh you should do it just because it's good for the environment,' we were looking at ways to make using reusable bags be stylish, fun and convenient."
Derek Gaskins, director of marketing for Giant Eagle, said the class did a phenomenal job with the posters.
"We were very pleased with the results," said Gaskins.
Originally designed for undergrads, the Design and Social Change course continues to gain popularity among students. Cicozi noted, "We thought we had a record number last year, but this year we're up to 59 students."
Of the 59 students in the 2008 class, one was a School of Design graduate and 19 were non-design students from other programs on campus.
Related Links: Related Story  |  View the Posters  |  School of Design
---