Climate Change, Energy Policy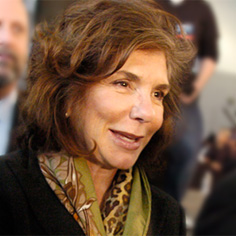 Prior to the election, Teresa Heinz hosted a panel discussion at Carnegie Mellon aimed at giving the next president of the United States some advice on global warming and energy policy. The event was co-hosted by the Heinz Family Foundation and the university.
The conversation, moderated by Moira Gunn, host of National Public Radio's "Tech Nation" and "BioTech Nation," included Carnegie Mellon professors Lee Branstetter and M. Granger Morgan, and Harvard University Professor John Holdren. Melissa Mickey Young, a second-year student at Carnegie Mellon's Heinz College, also participated. Young is earning a master's degree in public policy and management and also received the college's Otto Davis Scholarship.
Participants gave their perspectives on climate change and energy policy and the resulting impact on economic growth and technological innovation. The discussion focused on bold and critical recommendations for policymakers.
"The next president must view the threat of global climate change as an extraordinary opportunity — an opportunity to improve America's position in the global marketplace and to redeem our reputation abroad," Young advised. "If we take a bold and holistic approach to global climate change, we can simultaneously tackle many other problems, such as economic instability, national security threats and public health issues."
Young added, "Global climate change is arguably the most daunting challenge of our time, and we all need to be thinking about America's role in the solution. The financial crisis is at the top of everyone's list of concerns right now, but the climate crisis isn't going away, and leading the global effort with innovative solutions could be an integral part of reinvigorating our economy."
Heinz is recognized as a premier environmental leader and advocate on behalf of women's health and economic security. She is chair of The Heinz Endowments and the Heinz Family Philanthropies. With her husband, Sen. John Kerry, D-Mass., she is co-author of "This Moment on Earth: Today's New Environmentalists and Their Vision for the Future."
She established the Heinz Awards in 1993 to honor and sustain the legacy of her late husband, U.S. Senator John Heinz, for whom the Heinz College is named.
Through the unique curricula offered in its School of Public Policy and Management and School of Information Systems and Management, Heinz College is committed to providing future leaders with an exciting blend of the policy and technical expertise needed to overcome critical global issues.
Related Links: Watch Video  |  Heinz College  |  School of Information Systems  |  School of Public Policy & Management
---