The Path to Public Radio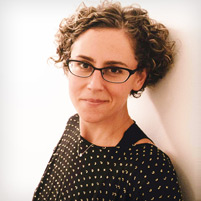 Liz Danzico
Since graduating from Carnegie Mellon University's Master of Arts in Professional Writing Program (MAPW), Liz Danzico (DC'98) has trod her own path.

Named NPR's inaugural creative director of digital media, Danzico will be looking for new ways to visualize public radio.

Danzico has been thinking about pathways for years. She's even stopped to photograph paths that people cut through fields. Later, she'd use the images in a speech to the Department of English, telling students that when they design information to look for metaphorical paths from their users with the idea that content will reach users more easily if it uses routes they prefer.

At the same time, it's a potent symbol of her life; she's followed her own path from writer to user experience professional and chair of an interaction design department. She's held a variety of consulting jobs helping clients meet their users' needs, from The New York Times to This American Life to the TED prize. Along the way, she co-founded the MFA program in Interaction Design at the School of Visual Arts.

Danzico will use the same theory of pathways as she looks for ways to help NPR listeners interact with the media outlet's digital products.

Just days into her new job Danzico spoke with colleagues about CMU, describing her time at the university as a turning point.

"I knew I wanted to be a writer of some kind. But when the MAPW program was introduced to me, I learned how the integration and collaboration between writers and designers was essential. When I heard that, it was like the whole world made sense." Danzico said.

Danzico has returned often to CMU to speak at the English Department's professional seminar.

"We bring in exceptional alumni speakers to give the students a little bit of exposure to the things they can do with a degree in English," said Necia Werner, director of Professional and Technical Writing, who organizes the annual seminar.

Danzico has been a centerpiece of the program for years. It's Werner who still remembers Danzico's path-through-the-grass speech, though she presented it years ago.

"I still find it interesting that even in her day-to-day life she'll see something in the world and say to herself, 'I have to take a photo of this because it's going to drive home a concept.' It makes NPR a perfect fit," Werner said. "She's a very rich kind of storyteller."

Beyond the seminar, Danzico stays connected with students, such as Amanda Cardo (DC'13). Danzico helped Cardo brainstorm how to jump-start her career, in particular how to apply for certain internships.

Cardo followed her advice and applied to intern at PointSource, a Raleigh, N.C.,-based design consultation firm. A year later, they hired her.

"I didn't even know this field really existed until I talked with Liz about exactly what she does," Cardo said. "That's the CMU way of doing things; alumni want to help you as much as they can."
Related Links: Department of English | Master of Arts in Professional Writing Program
---