Sounds of SXSW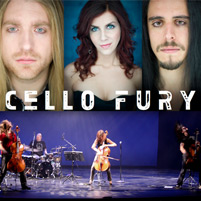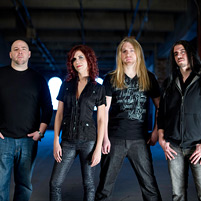 Cello Fury
Three cellists plus one drummer equals rock powerhouse "Cello Fury" whose passionate performances are challenging audiences' preconceived notions of classical music.

The group — blending the honed talents of Carnegie Mellon University alumni Simon Cummings (A'08) and Nicole Myers (A'02,'04) with cellist Ben Munoz and drummer David Throckmorton — unleashed its progressive rock sound for the second year in a row at the South By Southwest Festival (SXSW) in Austin, Texas.

"We are super excited. It's an opportunity to share our rock/classical fusion music with tens of thousands of people from across the country," Cummings said. "As a non-traditional rock band, we are looking forward to connecting with other people in the music industry and showing them what we're about."

Myers said the classical training she and Cummings received at CMU shaped their careers.

"Faculty like cello professors Anne Martindale Williams and David Premo gave us the tools we needed to perform proficiently as musicians," Myers said.

Cummings, who composes music for the group, added, "I was also greatly influenced by orchestration classes with Professor Leonardo Balada and the CMU composition faculty. I use the skills I developed in those classes in my compositions today."

While Myers was at CMU, she performed and managed what is now known as the university's Honors String Quartet. Coached by David Harding, associate professor of viola and chamber music, and Noah Bendix-Balgley, artist/lecturer in chamber music and concert master for Pittsburgh Symphony Orchestra, the quartet does outreach performances promoting CMU's School of Music.

Myers regards that experience as the launching point for her career as a performer and manager for Cello Fury and returns to CMU often.

Cello Fury has filmed two music videos on campus — "Infinity Rises" on the site of Kraus Campo and "Odyssey" in the Great Hall of the College of Fine Arts (CFA). Most recently, the group performed for the School of Music's weekly undergraduate convocation.

"These are great ways for Simon and I to reconnect with our alma mater and to share our experiences with students who are now beginning the journey towards their professional music careers," Myers said.

Myers said she enjoys the CMU environment, calling it supportive of innovation and exploration.

"CMU gave us the foundation to pursue careers beyond the traditional, classical music world. The music faculty is wonderful, from the studio teachers to the composition faculty and ensembles. We were surrounded by so much talent, not only musically but in many different fields of study," Myers said.

Cummings said he hopes audiences have an emotional response to their music.

"We want to connect with them on a deeper level. We want them to experience something new and exciting when they come to our shows," he said.

CMU's Alumni Relations promoted the March 15 concert as one of several activities at which the university's greater community could network at SXSW. As part of the trade show, CMU hosted a booth that included Heinz College and the Entertainment Technology Center as well as several start-up companies with CMU connections.

"SXSW has a strong focus on innovation and creativity," said Andy Shaindlin, CMU's associate vice president for Alumni Relations & Annual Giving. "This is strengthened by the diversity of the participants, which mirrors the way CMU students and alumni cross boundaries between traditional disciplines in their academic and professional lives."

Shaindlin added, "Any event that links music, film, technology and a strong sense of community will benefit from having Carnegie Mellon people in the mix. And our alumni benefit by gaining broad exposure for their ideas, talents and ambitions."

Heinz College, the School of Computer Science and the ETC hosted a sold-out, alumni-only party at Cork & Co. on March 9. In addition first-year graduate students in the Master of Entertainment Industry Management program attended the conference.

Raymar Hampshire (HNZ'11) also will receive a Dewey Winburne Community Service Award for the work of his nonprofit SponsorChange.
Related Links: College of Fine Arts | School of Music | CelloFury.com | "Odyssey" video | "Infinity Rises" | South By Southwest
---