Puppet Master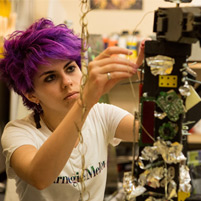 Katie Correll
Katie Correll (MET'14) has worked with puppets on Broadway and Sesame Street. Now she's helping Carnegie Mellon University's HERB perfect his acting skills for the robot's stage debut.

She also recently made her game show debut on TBS' "King of the Nerds."

HERB — the Home Exploring Robot Butler from the Robotics Institute (RI) — is no thespian. He's a mobile, two-armed robot that serves as a testbed for software and technologies that will someday enable robots to assist people in their homes.

Nevertheless, HERB already has starred in an Oreo campaign. He will next appear in "All in the Timing," a collection of plays by David Ives. Correll is using her talents as a mechanical engineer, a puppet maker and a dramaturg on the project.

The production will take place in April and is part of the School of Drama's Centennial celebration. Through the project, Correll is helping to make robots more lifelike as part of a team from the Personal Robotics Lab.

"The plays really investigate the interactions between the characters," Correll said. "The characters in the plays test and re-test interactions, trying to find the best trajectory for their conversations and explore language much in the same way we're exploring gestures to see which ones hit home with the audience."

The idea bloomed when Correll was working with Siddhartha Srinivasa, an associate professor in the Robotics Institute. Correll enlisted faculty from the Entertainment Technology Center and Drama and robotics students.

"I'm really glad that I'm at CMU because it's actually acceptable — if not encouraged — here to pursue new and innovative directions with things, even if they may not make sense to anyone but you," Correll said. "Case in point: where else could I have brought the robotics and drama departments together to do a full-length robot play?"

Correll is using her puppet-building background to help animate HERB. Her experience includes building puppets for the Broadway musical "The Addams Family" and The Jim Henson Co.

This semester she's working for Disney Research designing a robotic manipulator that draws on mechanisms similar to puppetry.

"The field of robotics needs more people like Katie," Srinivasa said. "She's one of the few people who spans the requirements of all the things we need out of this project. She is someone who is very technical, can talk the language that the drama people want to talk and is an artist herself."

Correll recently was in the spotlight with an appearance on "King of the Nerds," a game show where contestants competed for $150,000 and to be "the greatest nerd of them all." The show filmed last summer, and Correll's elimination episode aired in late February.

"I hadn't seen the first season of the show, so I did some research and decided that it would be a great platform to demonstrate the success of girls in STEM careers," Correll said. "I also found out that my little cousin was a fan, so I decided that if I could make an impression on just a few girls her age and convince them that science was cool and not just for boys, then it would be worthwhile."
Related Links: HERB | Robotics Institute | Entertainment Technology Center | School of Drama
---