Musical Magic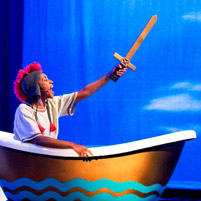 Two shows opening in under two weeks — that's the whirlwind life of Carnegie Mellon University alumni and songwriting teammates Michael Kooman (A'06) and Christopher Dimond (A'07).
The duo met in a CMU lyric writing class. Kooman, a composition major, had agreed to write songs for a senior fundraising project. With the deadline looming, he asked Dimond, a master's student in dramatic writing, to collaborate. A team was born.
"As students, we were fortunate to meet and work with an incredible array of artists, many of whom we continue to work with to this day," Kooman said. "Those connections and those we've made through the alumni network since graduating, have continued to help us."
After graduation, Kooman remained in Pittsburgh to help complete Dimond's thesis project and their first musical, "DANI GIRL."
The music won an American College Theatre Festival Award from the John F. Kennedy Center for the Performing Arts in Washington, D.C., which led to a commission to write "Orphie and the Book of Heroes." The show, which premieres at the Kennedy Center, follows a young girl in ancient Greece seeking a female hero.
In their short time together, the pair has garnered additional honors including the 2013 Fred Ebb Award, the 2010 Jonathan Larson Grant and the first Lorenz Hart Award. They have also released "Out of Our Heads," an iTunes album featuring an all-star lineup of Broadway performers, including Patina Miller (A'06).
The duo also recently premiered "Judge Jackie Justice," a fun-filled reality-TV satire, complete with audience participation, created at the request of Pittsburgh's Civic Light Opera.
While in Pittsburgh prepping the show, they spent time with Associate Teaching Professor Gary Kline's cabaret performance class, where the students produced "A Cabaret Evening with Kooman and Dimond."
"When Gary Kline asked us if we'd be interested, we jumped at the chance," Kooman said. "We were honored to work with such talented students."
It was a way for them to give back to the program where they had worked with distinguished professors and collaborated with other students in the renowned interdisciplinary programs.
"[Composition professor] Nancy Galbraith was a great mentor to me," Kooman said. "I was able to explore my interests in both music composition and theater, which I combine in my work today.
"I was also lucky enough to study privately with [Paul Mellon University Professor of Music Emeritus] Robert Page. He taught me almost all I know about writing for the voice. I don't know where I'd be without his tutelage."
Dimond said he had a number of amazing professors including the late Milan Stitt and Melissa Martin, an adjunct faculty member.
"The strong dramatic writing program at CMU provided training for both stage and screen," Dimond said. "CMU has played an integral role in advancing our careers. There's no way we'd be where we are without CMU."
Related Links: School of Drama | School of Music
---