School of Art Symposium Draws Artists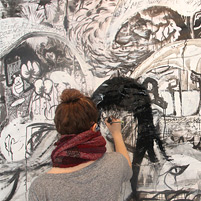 Even in a digital age, artists and educators are drawn to the simplicity of drawing.

DRAW2014 brought together artists and practitioners from around the world to Carnegie Mellon University at the end of February to emphasize the fundamentals of drawing.

Fashion/art "it girl" Shantell Martin invited the audience to join her in a multimedia performance. She said she hoped participants walked away wanting to make their own mark on the world.

"Drawing has a bad reputation. Basically, there is this idea, if you ask adults if they can draw, they say, 'oh I can only draw a stick man.' In the educational system, we've told them that that's what drawing is. And for those of us who couldn't color inside the lines, our confidence was crushed," Martin said. "You don't have to be doing what everyone else is doing. The point is to leave your own style and personality in your work."

John Carson, head of CMU's School of Art, said symposia such as DRAW2014 are important for examining what drawing really is.

"Most people were educated to think drawing is being able to take a pencil and make a realistic representation of something like a photograph. But drawing can be a way of thinking, exploring ideas, fantasizing, speculating. It can be all sorts of things, not just a still life," Carson explained.

In terms of drawing media, Carson said most people think of pencils, charcoal or painting. But he wanted to open participants' minds to what drawing has been and can be.

"Dancing is about people using their bodies and drawing in space. Tire tracks in the snow can be a kind of drawing. With this symposium, we wanted to get as many interesting practitioners together as possible and encourage expansive thinking," Carson said.

Highlights of the symposium included lectures from:
Amy Sillman, 2014 Distinguished Lepper Lecturer and visiting artist at CMU;
Stephen Farthing, painter and chair of drawing at the University of the Arts London;
Helen Molesworth, chief curator at the Institute of Contemporary Art, Boston; and
Shahzia Sikander, Pakistani-American artist known for her politically rich, experimental take on Indo-Persian miniature painting.
In addition 2013 Carnegie International artist and prizewinner Nicole Eisenman led a figure drawing session in the Carnegie Museum of Art's Grand Hall of Sculpture.

Visiting artists, CMU faculty and alumni hosted workshops spanning silverpoint, comics and animation, generative drawing with code, botanical illustration, post-Google drawing, drawing as political action, drawing as performance and much more. An arcade provided an opportunity to meet local artists, illustrators, bookmakers and more showing and selling work, conducting demos, providing information and provoking conversation.

The symposium was co-organized by Clayton Merrell, associate head and associate professor of art, and Patricia Bellan-Gillan, professor of art.

"Drawing is so often the starting point and the first manifestation of an idea, an artwork, a building. It's very close to the thinking process itself," Merrell said. "It's a very direct and pure tool for communication. We draw today in myriad ways with low-tech and high-tech tools, but the act of representing spaces and ideas through schematic lines is just as immediate, powerful and useful today as ever."
Related Links: DRAW2014 | College of Fine Arts | School of Art
---