Take Me Out To a Ballgame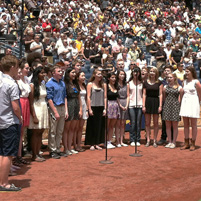 CMU's Pre-College A-capella Club at PNC Park
Carnegie Mellon University's Pre-College A-capella Club hit it out of PNC Park, where they sang the national anthem before a crowd of approximately 33,000.
 
Singing "The Star-Spangled Banner" before a Pittsburgh Pirates game is an annual tradition for the summer Pre-College students.

It didn't hurt that the Pirates defeated the Philadelphia Phillies, 6–2, on Sunday, July 6.

The club, comprised of 25 students selected by audition and led by Pre-College counselors Theo Peterson (S'17), Shannyn Rinker (A'16) and Quinton Laurencio (A'17), represents one of many opportunities available to junior and senior high school students studying at CMU during the summer.

"It was amazing to hear everyone cheering," said Alex Low, 17, an Orange County, Calif., native. "It was just a wow experience."

Low is part of the Pre-College Drama program, one of six summer Pre-College programs offered to provide students a taste of college life and glimpse into all that CMU offers. Students can explore architecture, art & design, drama, music and the National High School Game Academy. And through CMU's Advanced Placement/Early Admission (AP/EA) program, students can take two challenging courses to gain advanced placement and get a head start in college.
 
Susie Rush, program director for Pre-College student life, said that 500 people from across the CMU community, including faculty, staff, alumni and students, were in attendance to support the club's efforts at the game.

"It's been gaining steam every year," Rush said.

Auditions for the club were open to all Pre-College students, and although there are club members from the performing arts programs, Peterson said that there was at least one student from each academic program represented. Pre-College is much more than just academic opportunities, he said.

"It's an intense experience of being with peers and away from home. People get really close — it's a meaningful experience," Peterson said.

Cornell LeSane, the associate director of admission, said that the Pre-College programs expose students to the breadth of opportunities that CMU offers. Which in turn, encourages students to apply for admission.

"Close to 60 percent of the students who participated in the Pre-College program last year applied to Carnegie Mellon," LeSane said.

Low, a rising senior, said he is considering applying at CMU, thanks to his time at the university this summer.

"I want more musical theater training, and am also interested in business and political science — all of which CMU offers," Low said. "I'm loving it so far!"
Related Links: Summer Pre-College Programs | Undergraduate Admission | Summer Pre-College Playlist on YouTube
---