King of New York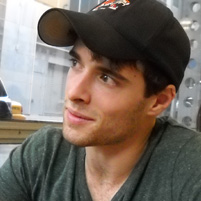 Corey Cott
Two years ago, Carnegie Mellon University alumnus Corey Cott (A'12) landed the lead in one of Broadway's biggest hits right after graduation.

The Disney musical "Newsies" ended its New York City run on Aug. 24.

"Newsies" wasn't completely unfamiliar territory for Cott, who found he had some connections in the production. Cott shared the stage with another CMU drama grad, Kara Lindsay (A'06), who played the female lead until February of this year. He also was reunited with a childhood friend from Ohio, Ben Fankhauser, who plays the role of Davey in "Newsies."

Inspired by the real-life newsboy strike of 1899, "Newsies" focuses on Cott's character, Jack Kelly, the leader of a group of teenage newsboys dreaming for a better life.

Cott is living his own dream, which began in Ohio and was supported by his family, including his younger brother Casey Cott (A'17).

CMU's School of Drama has helped bring Corey Cott's dreams to life.

"Carnegie Mellon is the heart and soul of my training," he said. "The faculty became like family to me and my classmates. Every single one of them brings something different to the table, and they find a way to make it all work together for the students' benefit."

From the very start, Cott said, he began learning how to take the right steps toward a successful and grounded future. In his first class, the instructor asked a question that changed Cott's preconceived definition of success. 

"He asked each of us, 'How are you going to use your talent to change the world?'" Cott recalled. "And I thought, 'Wow, I need to use my talent in a way that does something meaningful for the world. I can't just do this for the wrong reasons — just to gain fame and fortune.'" 

He didn't just think the words. He lived them, according to School of Drama Professor Don Wadsworth.

"Throughout his four years in the CMU conservatory, Corey's only desire was to grow as an artist and to serve the industry he loves so much," Wadsworth said. "It was never hard to believe that he would do well early in his career."

Professor Gary Kline recalled Cott's early dedication to his craft. Kline saw the young man's talent right away — the technical expertise, the studious nature that helped Cott navigate the music he was learning.

Kline also saw the hesitation Cott exhibited when he sang, and he knew that his student needed to learn to let go and find the joy in his work. 

"One day in my Acting A Song class, Corey had a breakthrough … there was so much love surrounding him, and from that day on, he started to really sing from his soul with transparency and lack of fear," he said. "I was thrilled beyond belief to see his passion so exposed to everyone who listened."

Kline saw that passion firsthand during a visit to New York City. During a standing-room-only performance of "Newsies," he witnessed Cott singing one of the show's signature numbers, "Santa Fe."

"Imagine my joy when I heard this amazing Act I Finale song being sung by Corey on Broadway, and the audience beginning to roar their approval before that last glorious note was finished," he said.

Next up for Cott is a revival of "Gigi" at the Kennedy Center. He also will be appearing in the feature film "The Intern," which will be in theaters in 2015.

As for "Newsies," the show will begin a North American tour in October. The cast has not yet been announced.
Related Links: Broadway World "Vanessa Hudgens, Corey Cott, Victoria Clark, Kate Burton & More Set for NYC Reading of Broadway-Bound GiGi" | School of Drama | Cott Takes the Lead | CMU Alumni Top Tonys | Carnegie Mellon Today "Cott Up in the Moment"
---