Best of Prime Time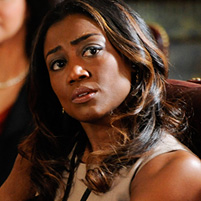 Patina Miller in "Madam Secretary"
This fall, catch some of your favorite Carnegie Mellon University alumni on television during prime time. Among the newest faces to the small screen is
Tony Award®
-winning actress
Patina Miller
(A'06) who will be joined by Geoffrey Arend and
Corey Cott
(A'12) on the set of "
Madam Secretary
."
The drama follows female Secretary of State Elizabeth Faulkner McCord (Tea Leoni) as she tries to balance her personal and professional life.
Several actors were part of two movies being produced as part of the Starz reality show "
The Chair
," where two directors used the same script to come up with wildly different movies. Zachary Quinto (A'99), Corey Moosa (A'00) and Neal Dodson (A'00) are among the producers on the show.
CMU's veteran actors and newcomers will appear on a number of shows this fall as cast members and featured guests. Be sure not to miss the following:
Dan Amboyer (A'06), "Unforgettable," CBS
Matt Bomer (A'00), "White Collar," USA Network
Christian Borle (A'95), "Masters of Sex," Showtime
Ted Danson (A'72), "CSI," CBS
Seamus Dever (A'98), "Castle," ABC
Chris Douglass (A'14), "Not Cool" (The Chair), Starz
Paloma Guzman (A'06), "White Collar," USA Network
Ian Harding (A'09), "Pretty Little Liars," ABC Family
Annie Heise (A'12), "Legit," FX (Heise will also star in the upcoming Lifetime TV movie called "Vow of Violence.")
Antwayn Hopper (A'07), "The Knick," Cinemax
Rachel Keller (A'14), "Holidaysburg" (The Chair), Starz
Gabriel Macht (A'94), "Suits," USA Network
Rebecca Metz (A'96), "Shameless," Showtime
Katy Mixon (A'03), "Mike and Molly," CBS
Claire Morgan (A'84), "Holidaysburg" (The Chair), Starz
Rory O'Malley (A'03), "Partners," FX
Ross Philips (A'10), "Hart of Dixie," CW and "Misdirected," web series
Pablo Schreiber (A'00), "The Brink," HBO
Aaron Staton (A'04), "Mad Men," AMC
Tamara Tunie (A'81), "Law and Order: SVU," NBC
Michelle Veintimilla (A'14), "Not Cool" (The Chair), Starz
Ming-Na Wen (A'86), "Agents of S.H.I.E.L.D.," ABC
Check local listings for dates and times.
Related Links: College of Fine Arts | School of Drama | CMU Performing Arts Awards
---