Trapped Treasures
The Invisible Photograph: Part II (Trapped) from Carnegie Museum of Art on Vimeo.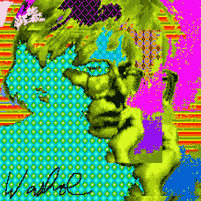 Andy2, 1985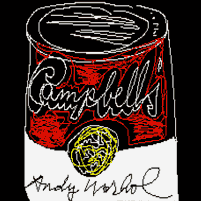 Campbells, 1985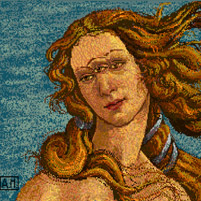 Venus, 1985
It's not every day you find new works of art by pre-eminent artists.
Carnegie Mellon University faculty and students were instrumental in resurrecting a dozen, previously unknown artworks by alumnus Andy Warhol (A'49). The images had been stored on aging floppy disks from 1985.
The investigation was supported by the Frank-Ratchye STUDIO for Creative Inquiry  (FRSCI) and its Frank-Ratchye Fund for Art @ the Frontier. It comes at a time when The Andy Warhol Museum (AWM) is celebrating its 20th anniversary.
The purely digital images, "trapped" for nearly 30 years on Amiga® floppy disks stored in the AWM's archives collection, were discovered and extracted by members of the Carnegie Mellon University Computer Club, with assistance from the AWM's staff, the FRSCI, the Hillman Photography Initiative at the Carnegie Museum of Art (CMOA) and New York-based artist Cory Arcangel.
The artwork was originally the product of a commission by Commodore International to demonstrate the graphic arts capabilities of the Amiga 1000 personal computer. Warhol earned a bachelor's degree in fine arts from Carnegie Mellon University, then Carnegie Institute of Technology, in 1949.
Arcangel, a self-described "Warhol fanatic and lifelong computer nerd," reached out to the AWM in 2011 regarding the possibility of restoring the Amiga hardware in the museum's possession, and cataloging any files on its associated diskettes.
In April 2012, Arcangel contacted Golan Levin, a CMU art professor and director of the FRSCI, a laboratory that supports "atypical and anti-disciplinary research at the intersection of art, science, technology and culture."
"One of the things we do is we connect the outside to the inside. We bring in artists in residence and we also conduct all kinds of activities, exhibitions and so forth," Levin said in a documentary of the project. "[Cory] asked me if I might know anyone in town, here in Pittsburgh, who would be able to do the kind of retrocomputing required to forensically extract data off a 30-year-old Amiga." 
Levin used the FRSCI as a bridge to connect Arcangel, the AWM and the CMU Computer Club. The Frank-Ratchye STUDIO for Creative Inquiry was endowed by alumni Edward H. Frank (CS'85) and his wife, Sarah G. Ratchye (A'83), in 2012. At that time, the Art @ the Frontier grant was established to support the creation of new works that push boundaries and inspire imagination.
"When we established this fund we didn't realize how quickly it would add to the legacy of an artist known for ground-breaking work at his time," said Frank, who is a University Life Trustee. "We look forward to other wonderful outcomes as the Studio and our fund support new projects at the frontiers of art and technology."
The Computer Club, Arcangel in collaboration with collections manager Amber Morgan and other AWM archivists, had completed a plan for handling the delicate disk media, and gathered at The Andy Warhol Museum to see if any data could be extracted.
It was not known in advance whether any of Warhol's imagery existed on the floppy disks — nearly all of which were system and application diskettes onto which, the team later discovered, Warhol had saved his own data.
Reviewing the disks' directory listings, the team's initial excitement on seeing promising file names like "campbells.pic" and "marilyn1.pic" quickly turned to dismay, when it emerged that the files were stored in a completely unknown file format, unrecognized by any utility.
Soon afterward, however, the club's forensics experts, Michael Dille, who just completed his doctorate in robotics at CMU, and Keith A. Bare (CS'08, '09) of the CMU Computer Club reverse-engineered the unfamiliar format, unveiling 28 never-before-seen digital images that were judged to be in Warhol's style by the AWM's experts. At least 11 of these images featured Warhol's signature.
The images depict some of Warhol's best-known subjects — Campbell's® soup cans and his self-portrait, for example — articulated through uniquely digital processes such as pattern flood fills, palletized color and copy-paste collage.
Arcangel said the project succeeded beyond his wildest expectations. He said the artist obviously had fun in creating the work, which the team had fun rediscovering.
"I think that's the trick of art — to have a lot of fun. To have positive vibes and to not take it too seriously," Arcangel said. "What ends up coming out is kind of an eternally poetic thing."
The team's efforts are documented in the Hillman Photography Initiative's new short film, "Trapped: Andy Warhol's Amiga Experiments."
Additional information for the images shown above:
Andy2, 1985
Andy Warhol (American, 1928-1987)
Digital image, from disk 1998.3.2129.3.4
The Andy Warhol Museum, Pittsburgh;
Founding Collection, Contribution The Andy Warhol Foundation for the Visual Arts, Inc.
(c) 2014 The Andy Warhol Foundation for the Visual Arts, Inc. / Artists Rights Society (ARS), New York

Campbells, 1985
Andy Warhol (American, 1928-1987)
Digital image, from disk 1998.3.2129.3.22
The Andy Warhol Museum, Pittsburgh;
Founding Collection, Contribution The Andy Warhol Foundation for the Visual Arts, Inc.
(c) 2014 The Andy Warhol Foundation for the Visual Arts, Inc. / Artists Rights Society (ARS), New York

Venus, 1985
Andy Warhol (American, 1928-1987)
Digital image, from disk 1998.3.2129.3.22
The Andy Warhol Museum, Pittsburgh;
Founding Collection, Contribution The Andy Warhol Foundation for the Visual Arts, Inc.
(c) 2014 The Andy Warhol Foundation for the Visual Arts, Inc. / Artists Rights Society (ARS), New York
Related Links: CMU Computer Club's Report [pdf] | Watch "Trapped: Andy Warhol's Amiga Experiments" | Read the Press Release
---