Directing Leadership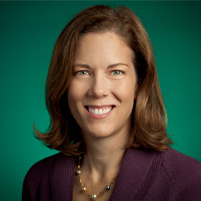 Trudi McCanna
Being open to new opportunities and having transferrable job skills has allowed Trudi McCanna (A'92, HNZ'95) to direct her career and others.

The Carnegie Mellon University double graduate uses the skills she learned while in school to guide leaders as head of executive development at Google. She discussed the qualities of leadership as part of the Master of Arts Management Speaker Series.

The MAM program, part of the Heinz College, taught McCanna to think analytically.

"Google is heavy with data, so the Heinz College helped me think about problem solving and systems," she said.

At Google, McCanna facilitates programs and coaching to help with leadership development, working with senior leaders. She also works behind the scenes to understand trends in the industry and communicate what that means for Google.

She is familiar, as well, with Google Vice President Andrew Moore who was recently named CMU's dean of the School of Computer Science.

"We have worked together at Google — he is awesome. I've facilitated a couple of off-sites for him and his leadership team here at Google," McCanna said. "It really is cool to work with other CMUers — even if I never knew them during my time at CMU — years down the road … there's just always an immediate connection."

McCanna has taken what she learned as an undergraduate in the College of Fine Arts majoring in directing and as a MAM student applying it everyday.

"Most of what I know about leadership I learned from directing," she said. "The skills that corporations are wanting to build are inherent in what we have been learning in arts for so long."

McCanna said that directing taught her to have a vision and how to mobilize other people toward it, to bring out the best in others and to work collaboratively.

McCanna stays active in the arts through her family. Her husband, Tim McCanna, is a musical theater writer and children's book author. Her children, Sophie and Nate, are involved in the arts, and Trudi helps raise money for foundations that provide arts in the schools.

Her father, Wade Biggs Jr. (E'59), is a graduate of Carnegie Tech, who still speaks fondly of his Scotch'n'Soda days. McCanna keeps in contact with a number of other CMU alumni.

"All of my jobs have come through CMU connections," she said. She pays that forward through informational interviews she's done with students who have contacted her for career advice. She plans to share some of that advice during her talk.

"I hope that I can share some different perspectives on leadership," she said. "Lessons that they can apply immediately and through the next chapter of their careers."

The MAM Speaker Series brings alumni back to campus to share their paths with students.

"Our graduates learn the fundamental applications of management and leadership development, which can be applied to a variety of sectors well beyond the arts," said Kathryn Heidemann, MAM director. "And Trudi's unique career path is a testament to the versatility of the MAM degree."
Related Links: Heinz College | Master of Arts Management Program | Google VP named Dean of SCS | Google Pittsburgh
---