Coming Home
Journey to Normal: Film Trailer 2014 from Journey To Normal on Vimeo.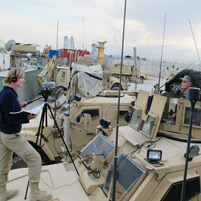 JulieHera DeStefano (A'95) conducts an interview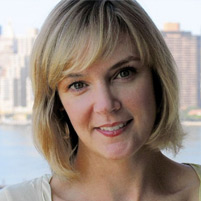 JulieHera DeStefano
JulieHera DeStefano's (A'95) career — and life — changed after an episode of "Oprah." It featured a female veteran describing her difficulty making a peanut butter and jelly sandwich for her 4-year-old after losing her arm in combat.

It was such a profound moment that the Carnegie Mellon University alumna would leave acting — she had roles in "The Preacher's Wife" and "The First Wives Club" — to produce "Journey to Normal," a documentary about female veterans. She has made it her mission to share and archive their stories.

Though she ultimately chose to spotlight the journey of eight women in the documentary, she has edited 87 interviews to be archived online. She said she hopes the interviews will inform academic researchers, health care workers and legislators looking to drive change.

Though DeStefano previously didn't have a strong military connection, the story of a female veteran re-entering society struck her.

"Here was this woman telling stories I could relate to; I understand the mother-daughter connection. Here was this commonality that allowed me to have an appreciation for their experience," she said.

DeStefano traveled to Afghanistan in December 2010, and spent three-and-a-half months interviewing more than 100 female veterans. She was surprised to be inundated with requests to participate, and male military members were equally enthusiastic about the film.

"The combat zone breaks down the natural barriers that we have as a society. There's a closeness and openness that we don't often experience," DeStefano said.

Through the course of her interviews, DeStefano knew she was working on more than a documentary. The women's inherent trust in sharing their stories touched her, but they also challenged her premise, seeing themselves as military members over viewing themselves as women.

"I learned when we try to pigeonhole, or label too much, we can miss the broader opportunity. I had to remain open to their whole story," says DeStefano. "I would have been missing the truth of their stories if I had remained driven by their gender."

DeStefano's path is different than what she imagined as a Carnegie Mellon theater student. But she came to the university to learn how to negotiate challenges. She shared classes with then-aspiring actors Patrick Wilson (A'95) and Christian Borle (A'95).

"I wanted a program that was tough, people who were going to be honest. If they didn't think I could survive in this business, they would send me home. It was an incredible experience," DeStefano said. The School of Drama is celebrating its centennial this year.

During her time at CMU, she worked with Professor of Voice and Speech Don Wadsworth, who said he is not surprised to see DeStefano behind the camera.

"She's very smart and very savvy, and also has a sense of the theatrical about her," Wadsworth said. "Sometimes you see someone who is a really good actor who actually has a really good eye for the whole picture and can become a director."
Related Links: Journey to Normal | College of Fine Arts | School of Drama
---