Where It All Began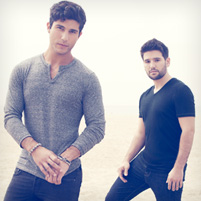 Dan Smyers, Shay Mooney
Kenny Chesney was a valet. Toby Keith played football. Merle Haggard was in jail.

Dan Smyers?

Before the rising country star took to the stage with songwriting partner Shay Mooney, the Dan + Shay guitar slinger studied finance at Carnegie Mellon University.

"It was very important to me to graduate and complete my education at Carnegie Mellon," Smyers (TPR'10) said. "Being a musician, it's not just learning the notes I get to play on stage. I'm basically running a small business here. A lot of the things I learned are very transferrable to what I do now."

Smyers spent his high school years touring and cutting his teeth in the music industry. He always had a passion for learning, and when he was accepted to the Tepper School of Business, he knew it was time to dive back into school full time.

Though he did record a solo EP while he was at CMU, he spent most of his time in the classroom and the library, sometimes taking eight or nine classes in order to graduate in three years — while still taking a few precious electives in the College of Fine Arts.

"You could just feel the energy by walking through the School of Music and School of Drama," he said. "There's just so much talent and creativity going on there, producing so much awesome stuff. And the way that those schools operated was a little different from Tepper, which enabled me to broaden my horizons."

Smyers' own creative energy drove him to Nashville after graduation. But the path between Tepper and the Nashville limelight wasn't smooth.

"It was tough roughing it for a few years because the degree from Carnegie Mellon is so valuable," Smyers said. "Especially at first, but I knew I was passionate about it, and you know I just kept grinding and living out in Nashville."

That work paid off. Dan + Shay's formation and almost overnight success has the ring of Music City folklore.

The duo first sang together at a mid-winter party, under a tent Smyers and his roommates had constructed. At the time, they were volunteering for medical studies and taste testing pizzas to make a living.

Less than a week after meeting Mooney, the duo's first song was optioned by Rascal Flatts. Months later, they were cutting an album they co-wrote with Music Row stalwarts Danny Orton, Rhett Atkins and Ben Hayslip.

Dan + Shay has received nominations for the 2014 ACM Awards (Vocal Duo of the Year), CMT Awards (Duo Video of the year) and has been nominated for Vocal Duo of the Year at this year's CMA Awards. After a summer of touring, opening for Hunter Hayes and Blake Shelton, Dan + Shay launched its first headlining tour, "Where it All Began" earlier this month.

Now that Smyers and Mooney are headliners in their own right, the business of Dan + Shay is anything but small, but thanks to his time at Tepper, Smyers can partner with managers to make sure they grow their brand and business the right way.

"When I talk about it with our manager and our business manager, they say that it's cool to work with someone who understands these things, the investments and savings," Smyers said. "I'm very thankful that I can keep track of that, where our business is and how we're growing."
Related Links: Tepper School of Business | Rising Star | Dan + Shay
---