Sound in 3-D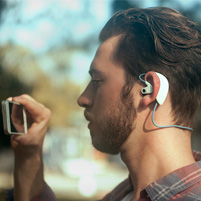 Anthony Mattana (A'11)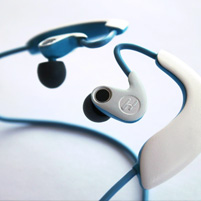 Anthony Mattana (A'11) had a problem. When the Carnegie Mellon University alumnus was trying to capture the sound designs he'd created for live theater events to use for his portfolio, they always came out sounding flat. The recording equipment he'd need to capture the immersive experience of hearing a live event, called binaural audio, would cost thousands of dollars.

When he couldn't find an economical solution, he decided to create one. Enter Hooke, a headset that allows the user to both listen to and capture binaural audio, or, as Mattana calls it, Mobile 3-D audio.

"Anyone can use this technology but it has to be accessible, and it has to be seamless," Mattana said. "I created Hooke as a way to change this world of flat audio."

Though there are other binaural headsets available on the market, Hooke is one of the first that is built for daily use with mobile devices. The way Hooke works is by using Bluetooth to sync with a mobile device. Once the headset and device are paired, Hooke takes over capturing the audio while the user operates the device's camera and audio recorder.

"The magic is in the mics, which are placed right in the ear canal," Mattana said. "Utilizing the form of the human ear to capture the sound."

This technology allows a user to play back recorded audio that sounds exactly like a live experience.

After a successful Kickstarter campaign that raised more than $160,000 dollars, Hooke headsets are in the final phases of development with plans to hit the market next June.

Bart Cortright (A'11) designs video and media for Hooke.

"I'm excited to see the next chapter; to see how people use [Hooke]," Cortright said. "Finding a really successful way to illustrate the uses and abilities of the product is really exciting to me."

When speaking about his jog off of the traditional career path of a theatrical sound designer into the business of startup technology, Mattana said he followed his instincts.
 
"I'm a sound designer with an idea that's really big," he said. "The scariest thing is being thrown into a world because of your passion. It's thrown me into a world that I know nothing about. I'm onto the next phase of a career I have no path for. But when you have an idea you're passionate about, you find a way to find the right people."

CMU connections helped make his idea a reality. To get Hooke off the ground, he collaborated with alumni and current students including Grace LaRosa (A'11), Charles Doomany (A'11), Jim Toggweiler (A'11), Stephen Tonti (A'13), Andrew Orobator (E'15) and Brad Plaxen (E'15).

"I think more than anything, what I see out of Carnegie Mellon alumni is that they have such a high capacity for huge workloads," Cortright said. "There's a drive and enthusiasm that you get from being constantly challenged and constantly working."

Joe Pino, professor of sound design at the School of Drama recalls a project that could have been the seedling for the new company.

"When Anthony was a student, he always had side projects going on," Pino said. "Most memorably, he created an immersive audio piece/installation [for Playground] that in hindsight can be seen as part of the DNA for Hooke in terms of demonstrating his interest in heightening the audience's aural experience."

Mattana and Cortright also credit Pino for teaching vital lessons about the aim of design.

"I owe a lot that I have to Joe Pino," Mattana said. "He taught us everyone is a storyteller. We just have different tool sets at our disposal."

As a special gift to CMU, Hooke is available for preorder at hookeaudio.com at a discounted price. Use "CMUHOOKE:-)" at checkout for a special discount.
Related Links: School of Drama
---