'Ready For The Journey'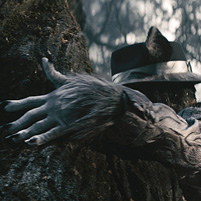 Johnny Depp as The Wolf
When Rob Marshall (A'82) selects new film projects, he looks for things that are "fresh and new and scary."

His latest, "Into the Woods," features a star-laden cast including Meryl Streep and Johnny Depp and translates an iconic musical from stage to screen. To tackle that challenge he relied on his Carnegie Mellon University training.

"Carnegie gave me everything, it was the foundation for my work today," Marshall said. "It really laid out the nuts and bolts [of the business] in a very professional way."

Marshall is a four-time Emmy winner, a six-time Tony nominee and his movies have won nine Academy Awards. His films have garnered 23 Academy Award nominations and his wins include three for "Memoirs of a Geisha" and Best Picture for "Chicago." His film, "Pirates of the Caribbean: On Stranger Tides," grossed more than $1 billion.

Marshall credits his work as an actor for his ability to bring out the best in his casts. He speaks their language and makes them feel safe, a skill that has earned him a reputation as the go-to director for stage-to-screen adaptations of musicals.

This talent for bringing a theatrical sensibility to the big screen stems, in part, from his time at Carnegie Mellon in the early stages of the School of Drama's Music Theatre program. Here, he trained as a dancer, singer and actor helping shape the program in its nascent phase.

Several of the faculty that taught while Marshall matriculated are still at the School of Drama. Judith Conte, professor of dance recalls Marshall, who was a freshman during her first year at CMU, as a kind and hardworking student.

"Well Robby — that's what I called him as my student — has an amazing range of talent, but it isn't talent alone that makes an artist," Conte said. "It's the humanity and generosity coupled with the talent that makes great artists. Rob has those in abundance. Always did and always will."

With his latest film, translating from stage to screen meant consulting with musical composer Stephen Sondheim and working closely with writer James Lapine, who created the stage production of "Into the Woods."

The musical is a modern take that entwines the classic fairy tales of "Cinderella," "Rapunzel," "Little Red Riding Hood" and "Jack and the Beanstalk." On stage, the musical runs nearly three hours and has a narrator character that doesn't necessarily make sense for the movie.

Another challenge the movie faced was a relatively small budget. To make sure he was able to fully capture the story, Marshall called the ensemble into rehearsal for six weeks before they began filming.

"When we got there on the day we could start shooting right away, the cast members were so ready to shoot," Marshall said.

A 2003 CMU Alumni Achievement Award winner, Marshall returned in 2012 to share his school and career experiences as part of the Steiner Speaker Series.
 
For Marshall's part, he is always happy to meet another CMU graduate. He said they stand out not only for their sense of craft but also for their graciousness.

Said Marshall, "I'm proud of the place and proud of having gone there."
Related Links: Dramatically Gifted | School of Drama | "Into the Woods"
---