Seriously Funny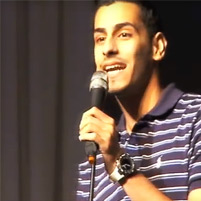 Mohammed Kamal
Mohammed Kamal is a 23-year-old Carnegie Mellon Qatar graduate, but he's better known as the first Qatari comedian.

He's not an improv comic. He writes down his jokes. He reads books about making people laugh. And he practices his material — line by line, over and over.

His degree in business administration helped him to become funnier, he says, and he's not joking this time.

"Business school helped me learn to be a great presenter, to look people in the eye, and to keep his audience hanging on every word," he said.

Like many comedians, Kamal started his career by telling jokes to a couch-full of family and friends. Three years ago, just for a laugh, he entered an open-mic competition organized by the Doha Film Festival.

Not only did Kamal win the contest, but he also met Bilal Randeree, a South African comedian who uses humor to bridge gaps between people.

The two decided to start a comedy troupe, which they called Stand Up Comedy Qatar (SUCQ). It supports comedy in the region by developing up-and-coming comedians and hosting events and tours.

Beyond that, the organization brings together Qatar's different communities and breaks down cultural barriers through laughter.

The secret to making people laugh, Kamal says, is to tell the truth, but exaggerate it.

Kamal never thought people would actually pay money to see him perform, but since 2010 he's toured in Dubai, Jordan, Kuwait and (shhh) Saudi Arabia, where comedy is still pretty much underground.

Kamal says he'd like to tour in America or Europe, but worries his humor won't export; that it makes better sense for people who live in Qatar.

But for many of his fans, it's his jokes about culture clashes that are the funniest.

Kamal pokes fun at Qataris and expats; men and women; current affairs and tradition. The only things that are truly off limits, he says, are religion and anything "too sexual."

Even his parents feature in his acts. His father, a renowned dermatologist, will even suggest jokes at his own expense.

But they'd rather Kamal keep his day job as a senior business planner for Qatar Petroleum, which is fine, he says, since Qatar's comedy scene isn't lucrative enough yet to pay the bills.

Kamal's videos have been viewed more than 40,000 times, and earned him 260 subscribers on YouTube.
Related Links: Mohammed Comedy on YouTube | Carnegie Mellon in Qatar | Tepper School of Business
---