Animal Magnetism
"Blood Brothers" trailer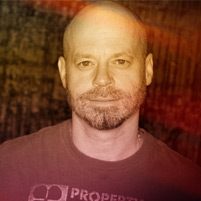 Michael Killen
Michael Killen (A'86) and his colleagues at Animal, the production and visual effects studio he co-founded with Jim Kreitzburg and Kathy Dziubek, were just thrilled when their first documentary, "Blood Brother," was accepted into the 2013 Sundance Film Festival.

When it snagged the top two prizes, "It just knocked us all out," said Killen, a Carnegie Mellon University design alumnus who credits much to his time at CMU.

Animal, now in its 11th year, was named for its strong reputation as creators of television's popular talking animals. From the Taco Bell Chihuahua and Real California Cheese cows to the Meow Mix cats and Subway chickens, they have us listening.

And Killen and his partners were listening when Steve Hoover, an Animal director, pitched a documentary depicting his best friend's work with HIV-positive orphans in India.

Given that Hoover and producer Danny Yourd had joined Animal as a music video team — they did Owl City's number-one hit, "Fireflies" — and were now shooting commercials, it was quite a departure. Especially for a busy firm that couldn't spare the talent.

But the cause was compelling. Donations were raised and a team was soon shooting in India, then back to the U.S. to squeeze film work into already busy days to meet festival deadlines.

"Danny said 'the best case scenario is to get in to Sundance,'" recalled Killen. "And that was it. We were just excited to get in."

The group trekked out to Park City, Utah, for the first days of the festival and witnessed five standing ovations, but "most of us came home before the awards show. We had to get back to work and pay the bills," laughed Killen.

Back in their homes watching the ceremony online, the team was doubtful, despite the high-production value gained through using Animal's commercial studio.

"You really felt the strength of the New York and L.A. presence there, the weight and size," said Killen. "Here we were, a 15-person Pittsburgh company that put this together on our own dime. Could we really beat these other 15 films?"

When the Audience Award was announced for Blood Brother, texts flew. And twenty minutes later, they'd done something rare — garnered the Grand Jury Prize, too.

Killen remains grateful and committed to CMU, where he followed his alumnus father, a printing management major. He supports two student awards — the Animal Award for Excellence in Motion Graphics and the Animal Legacy Scholarship.

"I truly believe in the education that Carnegie Mellon provides — the ability to think through problem solving," explained Killen.

"And CMU has such a great mixture of art and technology," he added. "In the film and commercial industry, we live and breathe that marriage every single day, balancing the two. CMU is one of the few schools with such strength in both sides of the brain."

Killen also maintains his connection through campus talks and his CMU network.

"The students with you at CMU are just as important as the teachers and classes because they are people you'll stay in touch with for the rest of your life and career," he stressed. "That's a huge deal."

Animal has recently published a photographic companion book to the Blood Brothers documentary entitled "I Was Always Beautiful." The publishing division is a new step for the company, and Killen states they're eager to bring in CMU interns.

Notably, all proceeds from both the film and book will be donated to the orphanage.

"Hopefully, the success that we've felt so far continues because that would be tremendous for the children," said Killen.
Related Links: College of Fine Arts | School of Design | BloodBrothersFilm.com | Animal Speak
---