A Classic Pairing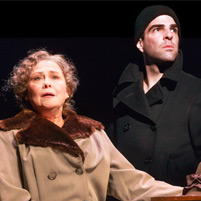 Cherry Jones, Zachary Quinto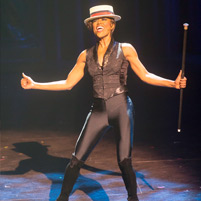 Patina Miller
Tony award winner Cherry Jones (A'78) and seasoned actor Zachary Quinto (A'99), two prominent alumni of Carnegie Mellon University's School of Drama, recently came together to star in a revival of one of Tennessee Williams' most acclaimed plays, "The Glass Menagerie."

The production, directed by John Tiffany, which took place at Boston's American Repertory Theater (A.R.T.), is rumored to be Broadway-bound.

To earn a good review from Ben Brantley, the New York Times' revered theater critic, is an accomplishment; to earn a glowing review is to approach the acme of professional achievement for a theater artist. Starring Jones and Quinto, "The Glass Menagerie" earned one such review.

Though the play has been revived every decade since it first premiered on Broadway in 1945, Brantley lauded Quinto as "the finest Tom I've ever seen …" Similar praise was lavished upon Jones, "who deliver[ed] a magnificently human performance."

Jones is no newcomer to the Broadway stage, having performed in 13 previous Broadway shows, including John Patrick Shanley's "Doubt," for which she won a Tony Award for her performance.

Quinto is best known from film and television, including the TV series "Heroes" and "American Horror Story," and as Spock in the "Star Trek" franchise film reboot, which has a sequel slated for a May 2013 release.

"The Glass Menagerie" has yet to make the leap from Boston to Broadway, but if it does, it will be in good company. Another transfer from Boston's A.R.T. to the Great White Way is also linked across generations of CMU alumni: "Pippin," which came to the Music Box Theatre in April, in its first Broadway revival.

The show, with music and lyrics by alumnus Stephen Schwartz (A'68) (who also wrote "Godspell" and "Wicked," among others) premiered at Carnegie Mellon in 1967 as Scotch'n'Soda Theatre's annual Carnival show. Scotch'n'Soda, an all-student theater troupe that boasts one of the largest memberships on campus, was Schwartz's playground as an undergrad.

The role of Leading Player, originated by stage legend Ben Vereen, was played by School of Drama alumna Patina Miller (A'06), who headlined in Broadway's "Sister Act."


Pictured above, top: Cherry Jones, Zachary Quinto in "The Glass Menagerie." Bottom: Patina Miller in "Pippin." Photos by Michael Lutch.
Related Links: College of Fine Arts | School of Drama | NYT review | American Repertory Theater | Scotch'n'Soda Theatre
---