"1600 Penn" Premiere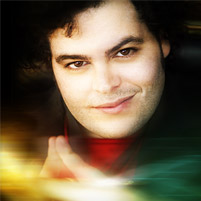 Josh Gad
Ironically, when Josh Gad (A'03) auditioned for admission into Carnegie Mellon University's School of Drama, he checked his acting ambitions at the door.

"Josh thought maybe he'd fit in as a director," recalls Don Wadsworth, professor of voice and speech at CMU. "He had some thought that he would never be accepted by us if he tried to come in as an actor."

Oh, was he wrong.

"Maybe he had the idea that we were looking for a specific 'type' or 'look' for the guys in our acting option. But, of course, we were just looking for very unique young artists who were on fire to learn and who were passionate," Wadsworth said.

"We had to convince him that we wanted not only terrific leading men but also funny, character guys in the mix," Wadsworth added. "Josh was quite unique and we loved him immediately."

After graduation, Gad went on to play the role of Ryan Church in the series "Back to You." He has also appeared in episodes of "ER" and "NUMB3RS." His film appearances include "The Rocker," "Crossing Over," "21" and "Love and Other Drugs," which was filmed in Pittsburgh.

"Josh's greatest talent is his ability to madly improvise," said Gary Kline, associate teaching professor of voice at CMU. "He used the techniques he learned at CMU to add structure to his unusual gifts."

Gad appeared on Broadway in the role of William Barfee in "The 25th Annual Putnam County Spelling Bee."

Most notably, he was nominated for a 2011 Tony Award for Best Leading Actor in a Musical for his role as Elder Cunningham in "The Book of Mormon."

"It is a thrill to now see him run the gamut, from musical theater to movies to television. He is a rare talent indeed," Kline said.

Wadsworth agreed, "After Josh got comfortable with the idea of being an actor in our program, he developed his comedic skills in writing as well as acting. And that has obviously paid off very well."

Gad co-created "1600 Penn," a new comedy premiering Thursday on NBC that follows a first family in the White House. He plays the son of President Gilchrist (Bill Pullman) who is forced to moved back home after seven years of college.
Related Links: "1600 Penn" | Carnegie Mellon Today: Broadway Bound | WSJ: Last Performance | CMU's Performing Arts Award Winners | School of Drama
---