Technology and "Jobs" Creation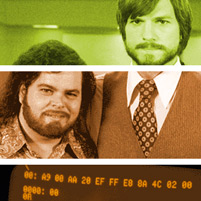 Josh Gad & Ashton Kutcher in "Jobs"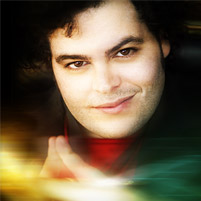 Josh Gad
Josh Gad (A'03) couldn't have found a better way to represent Carnegie Mellon University's world-class capabilities in both the arts and technology. In the new film "Jobs," the Tony-nominated alumnus is featured as Stephen Wozniak, the pioneering computer engineer who co-founded Apple Computer with the late Steve Jobs.

In the film, Gad's character — the inventor of the Apple I and II computers — has been described as Jobs' conscience, and Gad took seriously the responsibility of playing a significant and still-living man.

He prepared for the role by reading as much as he could, reviewing video footage, enrolling in computer programming and soldering classes and even altering his appearance to more closely resemble Wozniak.
 
Like many actors and CMU alumni, he also reached out to Don Wadsworth, CMU's professor of voice and speech and professional dialect/accent coach at the College of Fine Art's School of Drama.

"Many of our alumni often check in, just let us know how their careers are going and/or ask for help," Wadsworth pointed out. "I've stayed in contact with Josh, who in this case, needed to sound like the real Steve Wozniak. We reviewed several of Wozniak's YouTube interviews, analyzing his speech patterns — he's oddly musical — and his very unique accent."

Since Gad's 2003 graduation from CMU's renowned School of Drama (this year celebrating its 100th anniversary), he has performed on Broadway in "The Book of Mormon" — for which he was nominated for a 2011 Tony Award for Best Leading Actor — as well as in "The 25th Annual Putnam County Spelling Bee." He has appeared on television as a regular in the series "Back to You" and in episodes of "ER" and "NUMB3RS" and in films including "The Rocker," "Crossing Over," "21" and "Love and Other Drugs."

He recently appeared in and co-created "1600 Penn," an NBC television comedy.

But prior to Carnegie Mellon, Gad's direction wasn't quite so clear.

"I taught Josh in a voice and speech class and even took part in his CMU audition in New York," recalls Wadsworth. "He was very shy and very humble — sure there was no way he was going to be accepted. But, of course, we recognized that he is very clever and terrifically unique. That's what the world has now learned."

And Gad's talent and success have opened doors for other gifted alumni.

"Josh and two other actors originated roles in "The Book of Mormon," a huge Broadway hit," noted Wadsworth. "That production company and casting director have since offered eight of our actors roles in that show — and Josh paved the way."

Drama and computer science. Art and technology. Whatever you label it, creativity thrives at CMU.
Related Links: "Jobs" website | College of Fine Arts | School of Drama | "1600 Penn" premiere | Broadway Bound
---