Success By Design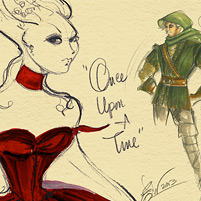 Costume sketches by Eduardo Castro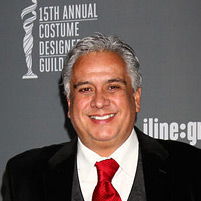 Eduardo Castro at the CDG Awards
For most of us, fairy-tale costumes on princesses, evil queens and forest nymphs are fantasies. For Carnegie Mellon University's School of Drama alumnus Eduardo Castro (A'76, M'77), they're just part of another day at the office.

Castro, costume designer for the fantasy-based television series "Once Upon a Time," has been recognized for his creations on the popular show, which was recently renewed for a third season on ABC. He won the 2013 Career Achievement in Television Award at The Costume Designers Guild (CDG) Awards in February, and in July he was nominated for an Emmy Award as well.

"I was astonished and humbled that the CDG Executive Board felt that I deserved it," Castro said. "It's been an extraordinary year."

Not only was the CDG impressed by his work, but the producers of the show also recognized Castro's work in a special way.

"The show is shot in Vancouver," said Castro's former instructor, Professor Barbara Anderson, "but the producers were so pleased with his work that they stopped filming for a day so that he could come down to Los Angeles to receive the award."

Castro received his bachelor's and master's degrees in costume design at CMU in 1976 and 1977. Always thoughtful about his design work as a student, Castro made an impression on Anderson, and she predicted a successful career for him. "Eduardo is a wonder — taking charge of big, complicated productions. Yet, he is always calm and capable of solving very complex problems," she said.

Unlike most Los Angeles designers of his stature, Castro still creates his own sketches, according to Anderson. "He is an excellent designer," she said, "and does wonderful costume plates of what he wants to build."

His costume sketches for the "Once Upon a Time" characters are intended to evoke the feelings of fantasy and imagination that people experience when reading fairy tales, Castro said.

"Had it not been for my education at CMU, there is no way I would have such success on my current series 'Once Upon A Time,'" Castro said. "Those design and construction classes have been such a godsend, and they are the reason I can design a costume head to toe within five minutes, which is the pace of episodic television!"

The lace and leather confections that Castro creates for the fairy tale series are not his only claims to fame. He has worked on more than 30 programs, including the TV series "Ugly Betty" and "Miami Vice." Of the latter, he said, "It was such an honor to have the producers take a chance on a young designer who had never designed a series before."

He has also worked on several TV movies and feature films, such as "Elvis," "Justice for Natalee Holloway" and "Woman Undone." Prior to this year's recognition, Castro received four CDG awards; one for "Elvis" and one each for three seasons of "Ugly Betty." With his most current nod, he has now received six Emmy nominations.

He has shared his expertise with students at Carnegie Mellon during visits to the campus. Most recently, he visited in spring 2013 to pay tribute to Barbara Anderson during a celebration of her work at the School of Drama. 

"My time at Carnegie allowed me to be mentored by an incredible faculty, which included Barbara and Cletus Anderson, Oren Parker, Bill Matthews and Fred Youens. Barbara and Cletus were crucial to my development as a serious designer, as they allowed me to grow with my own style, but made sure I had a very basic and solid foundation in design and construction techniques," he said.

Castro said that he has had the opportunity to work with others from the CMU School of Drama family, and shares a special bond with them. "What has been inspiring throughout the years is how many actors and directors and writers from CMU I have collaborated with, and we always speak with great affection about our time there."

                    
The "Once Upon a Time" season premiere is scheduled for September 29, 2013, on ABC.
Related Links: "Once Upon a Time" website | College of Fine Arts | School of Drama
---