Feathers in her Cap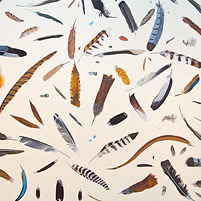 Detail from Dunaway's painting "Pictorial Encyclopedia of Shakespearean Birds"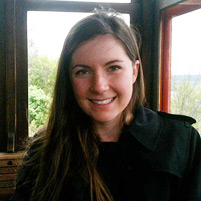 Missy Dunaway
For artist Missy Hammond Dunaway (BHA'10), the future has taken flight. "Pictorial Encyclopedia of Shakespearean Birds," a painting by the Carnegie Mellon University alumna and soon-to-be Fulbright scholar, was recently acquired by The Folger Shakespeare Library in Washington, D.C.

The work is the largest in her series of paintings focused on feathers, a project she began as a senior at CMU.

"The first painting came from the encouragement of two of my art professors, Susanne Slavick and Martin Prekop," explained Dunaway. "More recently, Professor Scott Sandage in the history department sent a photo of my largest feather painting to the director of the Folger Shakespeare Library. The painting was acquired for permanent display — one of the proudest moments in my art career so far."

Inspired by a love of "artwork that illustrates science," Dunaway's ink painting took her three months to complete and features feathers from every non-mythical bird alluded to in Shakespeare's writings. And the Bard referred to more than 60, ranging from cuckoos to ravens, often using them in a detailed manner as poetic symbols of his observations on humanity.

The paintings reflect Dunaway's interdisciplinary interests, as did her choice of Carnegie Mellon and its Bachelor of Humanities and Arts (BHA) program.

"Although I wanted to receive an education that prepared me for a career in the arts, I wanted the option to explore other interests," said the Annapolis, Maryland native. "When I learned that Carnegie Mellon encourages students to take courses in different disciplines, I was sold."

While at school, she studied art and material and visual culture — an individualized mix supported by the BHA program.

She recently received yet another honor, a Fulbright Award for a year's study and research in Istanbul and Konya, Turkey, beginning this fall.

While in the midst of a new series of paintings based on carpets, she discovered the 'Konya Carpets' from the Turkish Seljuk Empire, of which only 18 survived. She'll have the opportunity to study them in person, as well as Seljuk architecture, art and artifacts with the goal of painting her image of other lost pieces to "help historians reimagine this lost piece of history."

"Everyone knows that Carnegie Mellon will provide you with an excellent education, but I did not anticipate the level of support I would receive from faculty and staff after graduation," stressed Dunaway. "My professors have kindly written numerous recommendations, given career advice, and critiqued my developing art projects."

"And, of course," she added, "if it weren't for the amazing team at the Fellowship and Scholarship Office I would not be packing my bags for my upcoming year in Turkey with the Fulbright Fellowship."
Related Links: Audubon Magazine article | Dietrich College News article | Press release: Fulbright Awards | Dietrich College of Humanities and Social Sciences | College of Fine Arts | School of Art
---