Best of Primetime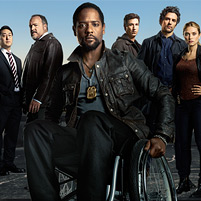 Blair Underwood and the cast of "Ironside"
From solving crimes to seduction in the world of advertising, some of the most memorable storytelling on TV features performances by actors from Carnegie Mellon University's School of Drama.
Among the highlights of the new fall season: Blair Underwood (A'88), an award-winning actor, director and producer, plays by his own rules to deliver justice as the lead detective in NBC's new police drama "Ironside."

Ted Danson (A'72), winner of multiple Emmy and Golden Globe awards, returns to his role as a crime scene investigation supervisor in "CSI" on CBS while Aaron Staton (A'04) returns to his role as ad writer Ken Cosgrove in AMC's award-winning "Mad Men."

Fans of the hit series "NCIS" must say goodbye to Ziva, played by Cote de Pablo (A'00), who makes her final exit in the second episode after nine years of being on the show.

Other shows you won't want to miss feature some of CMU's most popular veteran actors as well as a few newcomers:
Matt Bomer (A'00), "White Collar," USA Network
Ian Harding (A'09), "Pretty Little Liars," ABC Family
Gabriel Macht (A'94), "Suits," USA Network
Ming-Na Wen (A'86), "Agents of S.H.I.E.L.D.," ABC
Joe Manganiello (A'04), "True Blood,"  HBO
Michael McMillian (A'02), "True Blood," HBO
Ross Philips (A'10), "Hart of Dixie," CW
Katy Mixon (A'03), "Mike and Molly," CBS
Gaius Charles (A'05), "Grey's Anatomy," ABC
Tamara Tunie (A'81), "Law and Order: SVU," NBC
Megan Hilty (A'04), "Sean Saves the World," NBC
Ava DeLuca Verley (A'12), "Growing Up Fisher," NBC
Seamus  Dever  (A'98),  "Castle," ABC
Rhys Coiro (A'02), "Hostages," CBS
Annie Heise (A'12), "Legit," FX (Heise will also star in the upcoming Lifetime TV movie called "Vow of Violence.")
Speaking of TV movies,
Chuck Hittinger (A'05)
appeared in the Syfy smash "
Sharknado
," and rumor has it he will also be cast in the sequel.  
Meanwhile, Netflix subscribers can tune in to "
Orange is the New Black
" which features
Pablo Schreiber (A'00)
. Schreiber will also appear on "Ironside" and "Law and Order: SVU" with fellow CMU alumni Underwood and Tunie.
And in case you missed
Holly Hunter (A'80)
this past spring in the TV miniseries "
Top of the Lake
," you can catch that on Netflix, too.
Check local listings for dates and times.
Related Links: College of Fine Arts | School of Drama | Notable Alumni from the School of Drama
---