Zaslow's Story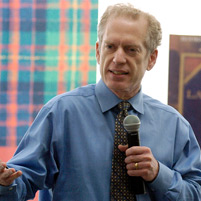 Jeffrey Zaslow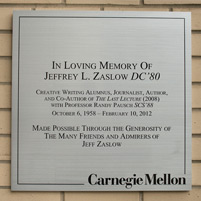 The Zaslow Plaque
Best-selling author Jeffrey Zaslow (DC'80) profoundly touched readers by writing about matters of the heart.

To honor Zaslow's memory, Carnegie Mellon University is helping to share his story. The university recently unveiled a new plaque and announced a scholarship program in his name made possible by gifts from several of Zaslow's friends and admirers.

"We want future generations of students to know how special he was," said CMU President Jared L. Cohon.

Zaslow majored in creative writing at CMU in the Dietrich College of Humanities and Social Sciences' Department of English. He was a longtime columnist for the Wall Street Journal.

When asked to write about the Chicago Sun-Times' search for a replacement for advice columnist Ann Landers, he applied for the job himself — and got it.

He worked at the Sun-Times from 1987 to 2001 and was a columnist for USA Weekend. He returned to the Journal in 2002 and worked there until his death in a car accident in 2012. He was 53.

"What I like about my job is sometimes I'm just writing about the obvious, but by doing that you can touch a lot of people and tell them things that will even change their lives even though it's something simple," he said during a 2011 TEDx talk.

In 2007, after driving 300 miles to attend the "Last Lecture" by fellow CMU alumnus and computer science professor Randy Pausch (CS'88), Zaslow wrote about it poignantly and memorably in his widely read Journal column, "Moving On."

His words became the spark that ignited a wildfire. The YouTube video of Pausch's Lecture has garnered nearly 16 million views, and Zaslow and Pausch collaborated on a book that followed, drawing on the lecture and interviews. "The Last Lecture" has since been translated into 48 languages and was on the New York Times best-seller list for more than 112 weeks.

A father of three, Zaslow remained dedicated to CMU and its students. He became an annual speaker during CMU's freshman orientation activities where he shared his experiences of being a student at CMU and insights on Pausch. He frequently visited classes to speak with students.

In 2009, Zaslow received a Distinguished Service Award from the university's Alumni Association.

In a fitting tribute, Zaslow's plaque hangs opposite one dedicated to his friend on the Randy Pausch Memorial Bridge, a footbridge that connects the College of Fine Arts' Purnell Center with the School of Computer Science's Gates & Hillman Centers.

Zaslow also authored "Highest Duty," about Capt. "Sully" Sullenberger, who safely landed US Airways Flight 1549 in the Hudson River; "The Girls From Ames," which chronicled the true story of 11 girls and the 10 women they became; and "The Magic Room: A Story about the Love We Wish for Our Daughters," which shared stories from a small-town bridal shop that made dreams come true.

He was a contributor to "Gabby: A Story of Courage and Hope," which chronicles the recovery of U.S. Rep. Gabrielle Giffords after she was shot at a political gathering in Tucson, Ariz.

Zaslow once said that people asked him what all of his books and columns had in common.

"They're all about love."
Related Links: Dietrich College | JeffZaslow.com | The Last Lecture | Read about Zaslow in the New York Times
---