We Celebrate!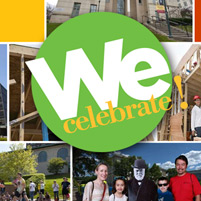 Spring Carnival & Reunion Weekend at Carnegie Mellon University was, as always, a time for celebration as students, faculty, staff, alumni, families and friends gathered for Scotch'n'Soda performances, Buggy races, Booth and more.

This year, many also joined us in celebrating the success of our Inspire Innovation campaign — through an interactive website, phone app, fun photo opportunities and giveaways.

"We just began the celebration at Carnival," said Andrew Shaindlin, associate vice president for Alumni Relations and Annual Giving. "Alumni, parents, faculty, staff and students will all have the chance to participate — online and in person — through the official end of the campaign on June 30."

Publicly launched in 2008, the campaign has already surpassed the $1 billion mark and created an even stronger global alumni and volunteer network, greater visibility for the university worldwide and increased financial resources for education and research.

Post Your Memories of CMU to our interactive website by visiting we.cmu.edu, whether you are on campus or just with us in spirit. Using #CMUcelebrates, comments and photos from Twitter and Instagram will be posted to the website as well. Throughout the weekend, Carnival-goers on campus visited our four welcome areas — the University Center and tents at Midway, the Fence and Frew Street — where they had an opportunity to take, share and post photos to we.cmu.edu, interact with the website through touchscreens, and receive a free gift bag.

Take the App Tour. A new smartphone app — CMU Celebration Tour — provides augmented reality at popular campus locations. It's a free app, downloadable from we.cmu.edu, which showcases fun facts and videos about various campus landmarks and the Inspire Innovation campaign.

Scotch'n'Soda. Scotch'n'Soda hosted a special anniversary reception from 6–9 p.m. on Friday. This year's performance was "Assassins" by Stephen Sondheim, a humorous yet chilling look into the men and women who have tried to assassinate different U.S. presidents.

Booth. Booths on the Midway, built by student organizations and often reaching two stories in height, were centered around the theme of "Fractured Fairytales." They included "Snow White and the Seven Giants," "Humpty Dumpty Trauma Ward," "Moby Dick: Revenge of the Space-Whale" and "Rapunzel's Enchanted Adventure."

Buggy. The Sweepstakes buggy races were rained out on Friday but the sun shined on them Saturday morning. For the uninitiated, buggies are aerodynamic pushcarts designed and built by student organizations. Each buggy holds a driver that steers and maneuvers around a 4,400-foot course.

At merely an inch off the ground, these buggies reach speeds of nearly 35 miles per hour. Each buggy team is made up of five students who push the buggy in a relay-style race up hills and toward the finish line.
Robotics. Alumnus Daniel Wilson (CS'05), who received his Ph.D. from CMU's Robotics Institute (RI), returned to his alma mater to give a talk in celebration of National Robotics Week. CMU's School of Computer Science hosted the 19th annual Mobot Races. Participants, including undergraduates and alumni, raced small autonomous vehicles through a slalom course on the paved walk outside Doherty and Wean halls. The RI also hosted exhibits and demonstrations in the Planetary Robotics Laboratory. Tours of two additional labs were available for a limited number of participants who pre-registered.
Student organizations cmuTV and WRCT 88.3-FM streamed live event coverage of Spring Carnival from their websites.
And the celebration continues! Visit our interactive wall at we.cmu.edu and post your favorite memories as we recognize the talent, achievements, commitment, and support of the amazing individuals who propel Carnegie Mellon University forward.
Related Links: We.cmu.edu | SpringCarnival.org | Alumni Association | Watch Live on cmuTV | Listen Live on WRCT 88.3-FM | Inspire Innovation
---