Lights, Camera — Cannes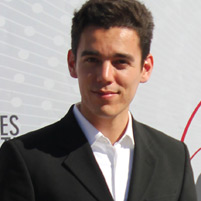 Taylor Grabowsky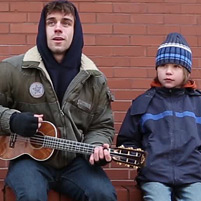 Scene from "Donor Heart," with [l-r] Steven Roberts & Owen Stout
When Taylor Grabowsky (A'06, HNZ'14) entered Carnegie Mellon University's Master of Entertainment Industry Management (MEIM) program last fall, he knew he wanted a career in the film industry.

He didn't know that within a year, he'd be premiering a short film at the 2013 Cannes International Film Festival.

"There aren't words to describe my experience in Cannes last month," exclaimed Grabowsky. "I had to continually ask myself, 'Is this really happening?' I attended red carpet premieres, lavish parties, met celebrities and networked with industry professionals at the most renowned international film festival in the world."

Grabowsky's whirlwind began when Maureen May, the MEIM Career Services representative, suggested he apply to the Creative Minds Filmmaker Institute, a program of filmmaking, networking and master classes held during the festival.

Not only was Grabowsky selected for the competitive program, he received an MEIM scholarship to attend. He also facilitated a new partnership between MEIM and the Creative Minds admission team to fund a yearly student through the program.

But that wasn't all. The Creative Minds staff alerted Grabowsky to the Cannes Court Metrage (Short Film Corner) competition. Fortunately, he had already begun developing his short film, "Donor Heart," with the CMU undergraduate film club and with their help, "produced the short in about a week and a half."

"It was an amazing experience and would not have been possible without the energy and enthusiasm from the undergraduate film club," he pointed out. "As the film's writer, director and producer, it was an extremely positive learning experience."

When Grabowsky first entered the MEIM program, he was no stranger to CMU. He'd earned an undergraduate degree as a CMU art major, and with significant residence life experience stayed on as a staff member, primarily as a coordinator of Student Activities.

Then the arts beckoned him back, and he enrolled in the MEIM program.

"I'm interested in filmmaking, both the creative and business aspects," he explained. "I'd like to become a producer and also work in some capacity with the creative side as a writer/director. The MEIM degree is very unique and just the right fit for me. It balances my artistic leanings with the more pragmatic skills that I acquired in higher education."

"During your first year in Pittsburgh," he continued, "the program emphasizes business courses, while your second year in Los Angeles is dedicated to coursework with entertainment industry executives. The best thing? It prepares you to be successful in the entertainment industry immediately upon graduation."

And the CMU community has been his support and his inspiration.

"The CMU network is tightly knit," he noted. "And the prior MEIM class has been extremely helpful. Because of their support, I was able to land my summer internship at CBS Films. In many ways, the entertainment industry is about who you know, and it is nice to know those people who have blazed a trail before us."

He added: "What I love about CMU is that everyone here — from the students to the faculty and administrators — is passionate about what they do. What I have been able to achieve is a true reflection of what everyone around me has inspired me to be. I think that Carnegie Mellon forces you to be the best version of yourself. It's the passion about what we do that drives us."
Related Links: Heinz College | College of Fine Arts | MEIM program | Piper story | "Donor Heart" [video]
---