Ensemble Idea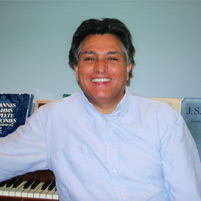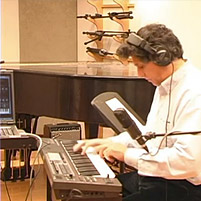 Reza Vali
Reza Vali doesn't listen to music to relax. From the moment he hears the first few notes of any composition, the Carnegie Mellon University professor begins analyzing everything about it — from the arrangement to the quality of the vocals to melodic and harmonic complexity.

Iranian by birth, Vali is fascinated with the complexities and similarities throughout Persian traditional and folk music.

"Regardless of what region you travel through in Iran, which used to be known as Persia, the shape of the folk music always relates back to Dastgâh, the country's traditional music dating back 2000 years," Vali explained.

Where the western keyboard has 12 intervals, the more complex Dastgâh uses additional intervals, ones that are smaller than a whole step but larger than a half step.

"We call them microtones. To create these microtones, I have had to develop computer software in order to be able to play them on a keyboard." Vali explained.

Vali is creating a new universal keyboard instrument called the Arghonoon, which uses a special tuning software developed by his former student, Eric Barndollar (A'09, CS'09), who is now employed by Google.

"The software configures an offset for each note that you want to tune, measured from a corresponding note in equal temperament," Vali said. "It supports single- or multi-octave patterns that can be repeated over a full keyboard and allows for multiple instruments, each configurable with its own tuning template."

Vali's passion for Persian music led him to co-found the Center for Iranian Music (CFIM) in CMU's College of Fine Arts with Bijan Elyaderani, M.D., the director of the Iranian American Cultural Association of Pittsburgh.

While centers do exist in the United States for Iranian studies, this is the nation's first center for Iranian music. Through it, Vali and Elyaderani will work to bring together all of the schools in CMU's College of Fine Arts for the purpose of promoting appreciation for Iranian music's rich history.

"Music in Persian culture is not separate from architecture, drama, art or design. It exists as part of the arts," explained Vali. "And so one of our goals is to increase awareness about the role music has played in the continuation and preservation of this ancient culture."

For Kathleen Fallon (HNZ'14), a Master of Arts Management student in CMU's Heinz College who holds a bachelor's degree in music, the center is an opportunity to work closely with distinguished faculty like Vali while gaining valuable experience related to her field of study.

"It is extremely rewarding and educational to be involved in an arts organization as it is being created," said Fallon. "This is an exciting opportunity for me to stay connected to music, which I studied as an undergrad, and I am learning so much about Iranian culture that I never knew before from working with Reza."

Along with conducting research for grants and managing web design and content, she helped to organize the center's opening night concert, which was attended by more than 250 people.

Guests enjoyed performances honoring Dr. Dariush Saghafi for his contribution to Iranian music and his dedication and support of the Iranian-American community in Pittsburgh. Saghafi is a master of the santoor, the Persian hammer dulcimer. The concert also featured performances by the renowned Carpe Diem String Quartet, and Dr. Ramin Saghafi, the son of Dariush Saghafi.

"The Iranian-American community was well represented in the audience, but there was also a diverse group of ages and other nationalities," said Fallon. "The performers were brilliant and the audience exuded an overall genuine warmth and enthusiasm for the event — engaged and on the edge of their seats. They gave several standing ovations."

She added, "You could tell that they were very excited about the center's opening and what this means for Iranian music and the community."

Vali has already begun working with CMU's Hunt Library to establish a world class library of Iranian music that includes CDs, an online library of contemporary composers and books in multiple languages. He plans to offer courses on Iranian music while he continues his research on the Arghonoon and creates a dynamic educational environment for students.

Vali and Cyrus Forough, professor of violin and an advisory board member of the CFIM, would like to offer long-distance seminars on composition and instrumental performance that help to establish relationships between CMU and universities in Iran. An annual festival is also in the works, which could include historians and architects as well as design, drama and film folks.

"One of the important aims for the Center for Iranian Music will be to create ways and channels in which dialogues between the Iranian musical culture and different musical traditions of the world may be achieved," Vali said.
Related Links: The Arghonoon Project [video] | College of Fine Arts | Download Reza Vali's New Album | School of Music | Center for Iranian Music website
---