Costumed Celebration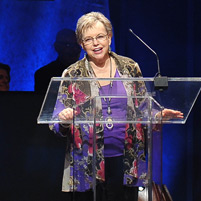 Barbara Anderson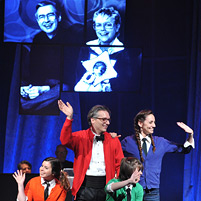 Numerous Carnegie Mellon School of Drama alumni have gone on to acclaim in costume and production design — no doubt with thanks to Barbara Anderson, distinguished professor of costume design and construction. And on April 20, the CMU and Pittsburgh community came together to celebrate her contributions of more than four decades.

"Barbara's influence on costume design, and designers in general in the spheres of theatre, film and television, cannot be underestimated. Several generations of designers can trace roots to Barbara," noted John Shaffner (A'76), former student and half of the award-winning team Production Design by Shaffner/Stewart.

"If you were lucky enough to be one of her students, you practice, carry forward and pass along the traditions of Barbara's teachings," agreed Joe Stewart (A'77).

Shaffner's work includes the hit shows "Two and a Half Men," "Big Bang Theory" and "Mike and Molly," among others, while Stewart's extravaganzas include the Miss USA and Universe pageants. Together, Shaffner/Stewart have been awarded four Daytime and Primetime Emmys and received 29 nominations. Both men have been named CMU Distinguished Alumni.

"Our former students are terrific!" said Anderson, who serves as the Bessie Anathan Professor of Drama. "During their time here, we all worked together — on production and outside projects, including film and TV. We kept an eye on their progress once they left. They're family."

Other notable alumni influenced by Anderson include Eduardo Castro, who received the Costume Designers Guild 2013 Career Achievement in Television Award and whose work includes "Once Upon a Time" and "Ugly Betty," and production designer Neil Spisak of the "Spider Man" movies, among many others. 

Anderson was honored during her academic career with the university's Ryan Award and the College of Fine Arts' Hornboestel Award, both for excellence in teaching.

She also co-authored the textbook "Costume Design" with her husband Cletus, a former CMU design professor. Completing the CMU family connection is daughter Catherine (A'89), though engineer son Christopher maintains quite a fashion flair, smiles his mother.

Anderson's prolific design career in film, television, opera and theater includes many George Romero (A'61) productions such as "Creepshow" and "Day Of The Dead;" PBS productions such as the American Playhouse film "The Silence At Bethany," the Emmy Award-winning "Leatherstocking Tales," "Decades of Decision," and the "Once Upon a Classic" series, among others; specialty costumes for "Mister Rogers' Neighborhood" and historical costumes for the John Heinz Regional History Center.

"CMU encouraged our continuing in professional work, and there were so many possibilities in Pittsburgh, a great city," said Anderson. "It's been an honor to call Pittsburgh home, and a privilege to be part of the School of Drama and CMU family."

And that family — Anderson's students — have not only thrived in the entertainment industry, but also teach at several distinguished universities, ensuring that her contributions will be appreciated for years to come.


Bottom photo: Sharisse Petrossian, Brian Russman (head of the Costume Production program), Mary Stein and Sylvianne Shurman, at the "Barbara Anderson Gala" event in April, 2013. Above them appears Anderson with Fred "Mr. Rogers" Rogers.

Related Links: Read press release | College of Fine Arts | School of Drama | Graduate Programs in Costume Production and Design | Anderson's IMDb webpage | School of Drama's production of Romeo & Juliet
---