'The Sound of Music Live!'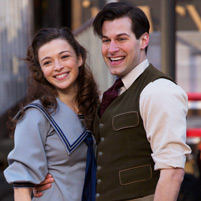 [l-r] "Leisl" & "Rolf," played by Ariane Rinehart & Michael Campayno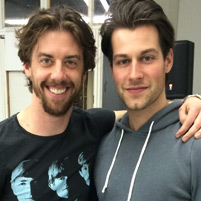 [l-r] alumni Christian Borle & Michael Campayno
Another rehearsal extends well into the night, leaving Carnegie Mellon University student Michael Campayno (A'14) and Tony Award-winning alumnus Christian Borle (A'95) dog-tired.

But in a good way.

Campayno, Borle and their castmates — among them, country music star Carrie Underwood — performed the Rodgers and Hammerstein classic "The Sound of Music," which aired live on NBC on Dec. 5, 2013.

It was the first time in 50 years a broadcast network aired a full musical for live TV. The last time was "Cinderella," which aired on CBS in 1957.

"Any live performance on television is a pretty remarkable thing. So, the fact that this is a huge Broadway musical is pretty spectacular," said Don Wadsworth, professor of voice and speech in CMU's School of Drama.

Live TV can be as challenging as performing on Broadway, and in some ways, less forgiving. There's no audience for feedback, and close-ups can catch more details than someone in a theater might see.

"If one little mistake happens, we have to know how to recover. If we're listening, and if we're in the moment, everything should be fine," said Campayno, who studies musical theater at CMU.

Campayno competed with hundreds of actors to land the role of Rolf, the young messenger who falls in love with Captain von Trapp's oldest daughter, Leisl, played by Ariane Rinehart.

Instead of Rolf's iconic duet "Sixteen Going on Seventeen" being sung in a gazebo, director Rob Ashford moved the scene to the top of the mountain to make it more dangerous and romantic.

"It goes from flirting to playing with each other," Campayno said during NBC's "The Making of the Sound of Music Live!"

Despite rehearsing on a Long Island soundstage for part of this semester, Campayno was still on schedule to graduate with his class in May 2014. Peter Cooke, head of the School of Drama, said rare offers such as these are considered internships.

Wadsworth has a theory on why Campayno was chosen.

"In musical theater you tend to have a lot of singers, not singer/actors. Michael is a strong actor, and he probably was able to bring more to that role than other singers," Wadsworth said.

Campayno is in good company with Borle.

"Christian is another musical theater performer who is a strong actor," Wadsworth said of Borle, who starred in NBC's musical-drama series "SMASH" and played von Trapp's friend, Max Detweiler.

Borle, who won a Tony Award for his role in "Peter and the Starcatcher," recently appeared in CBS' hit drama "The Good Wife."
"That's what we try to do at Carnegie Mellon. We try to build actors who can be cast in more than one arena, actors who can perform on Broadway and very much hold their own in serious TV shows or straight dramas," Wadsworth said.
Viewers of the broadcast also saw Christiane Noll (A'90), an alumna of CMU's School of Music, in the role of Sister Margaretta. Working behind the scenes were CMU alumni Kevin Rupnik (A'78), art director; Pamela Putch (A'81), senior vice president of production at NBC Universal; and Charles Dabezies (A'14), a lighting intern.
The CMU talent pool long has been providing actors, producers, directors and other technical professionals for countless productions on television, film and stage. In 2014, the university's School of Drama will celebrate 100 years of granting degrees.
Seeing new generations of talent continue the tradition of excellence for the school is a large focus of the centennial year, according to School of Drama Head Peter Cooke. Alumni, friends, faculty and current students will celebrate the school on three separate occasions during the coming year: Feb. 22 in Pittsburgh; March 10 in New York City; and May 8 in Los Angeles.
"The level of accomplishment across all disciplines offered by the school in its storied history could not be higher, nor more widely felt and acknowledged across the world arts community," Cooke said. "And for that, we in the school thank each and every participant in its 100-year journey."
Related Links: Press Release: Campayno in Sondheim Production | CMU's Tony Award Winners | College of Fine Arts | School of Drama
---