Studio is a Hit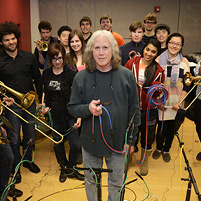 Carnegie Mellon University's School of Music is already known for producing outstanding musicians, vocalists and composers. But it has a hidden jewel in the basement of the College of Fine Arts building.

That treasure is a recording studio where artists are flocking to produce their work and students of all disciplines are getting invaluable real-world experience they can apply to any field.

"The recording studio is a teaching facility for students who want to learn about the recording process. But most of the students in my classes are not music majors, and very few are looking for a career as recording engineer," said Riccardo Schulz, associate teaching professor in the School of Music who manages the studio/classroom.

Working together in small groups to operate recording sessions for visiting artists, Schulz's classes have included engineering, computer science, business, mathematical sciences, chemistry and humanities majors, in addition to music majors.

"Students don't only learn how to run a mixing board and plug in microphones. They learn how to interact and effectively communicate with people from a variety of backgrounds, and that will be extremely useful to them after graduation," Schulz said.
 
In his sound recording class, Schulz teaches them everything they need to know about the subject. But in his multi-track recording class, the students do all the work while Schulz sits in the back and observes.

Andrew Mort (E'16), a sophomore electrical and computer engineering major, appreciates Schulz' approach.

"It's very effective because we really have to know our stuff in order for the session to go smoothly," Mort said.

Two of Schulz' former students — Fritz Myers (A'04) and Eric Boulanger (E'07) — have made recording music their careers.

Boulanger, a violinist and chief engineer for The Mastering Lab in Oaji, Calif., works with Grammy Award-winning artists, producers and engineers on a daily basis. Myers, who served as a teaching assistant under Schulz, is a composer, musician and owner of Platitude Music, a production company in Brooklyn, N.Y.

But what Schulz' students are learning in the classroom can be applied to any profession.

"The recording classes provide an opportunity for all of them to broaden their skill set, making them more qualified for future career possibilities," said Schulz.

Adam Kriegel (E'12) took the recording courses for enjoyment; but now, as an audio software engineer for Apple, he actually uses what he learned in Schulz' courses in combination with his engineering and computer science education.

"In Riccardo's classes, I learned to use the digital audio recording tools that are used in the industry," Kriegel said. "Now, I help to write those tools."

The recording studio is named in memory of CMU alumnus Johnny Costa (A'51,'52), the late jazz pianist best known for his work as musical director of the children's television program "Mr. Rogers Neighborhood."


Photo: Riccardo Schulz with students. Copyright ©, Pittsburgh Post-Gazette, 2013, all rights reserved. Reprinted with permission.
Related Links: College of Fine Arts | School of Music | A State-of-the-Art Destination | Remembering 9/11 | Heatin' Up the Mic | A French Nod
---