Room To Explore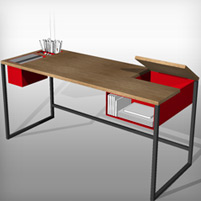 Innermix Desk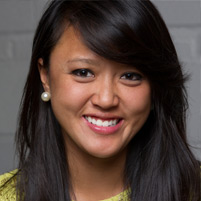 Amanda Ip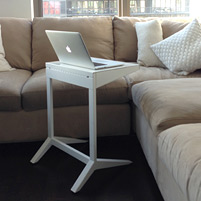 Tucker Laptop Table
Carnegie Mellon University helped Amanda Ip (A'07) furnish her future.

The School of Design alumnus has already made her mark in furniture design, from winning contests to selling pieces to major retailers.

"It's awesome to get a piece done, and to know that something I've designed will be made," Ip said.

Ip has been on the fast track to success since beginning her career at Webb deVlam in Chicago, where she worked on product packaging for brands such as Wrigley and Procter & Gamble.

Now at Chicago's Slate Design, which focuses on the design of unique home furnishings, she has seen her designs go from concept to shelf at Crate & Barrel, as well as its related retailer CB2.

Her CB2 piece, The Tucker Laptop Table, was mentioned in The New York Times as a design that adapts to technology.

Ip also won the June 2012 Live/Work design contest sponsored by retailer Design Within Reach (DWR) and Dwell Magazine. For the competition, which challenged designers to come up with a home office piece that combined function and form, Ip created the Innermix Desk, a large, wooden work space with three built-in storage compartments.

DWR hopes to produce the Innermix Desk before the end of this year.

Ip said she always wanted to study design, it wasn't until attending CMU that she knew what path she wanted to take.

"I really liked that the program allowed you to explore both sides of design — industrial and communications design — during your freshman year, and then you could decide where to focus," Ip said.

Ip also credits her School of Design training for shaping her as a designer.

"The program created projects that touched on so many different design elements. All of these projects taught me to see things from different perspectives, and to think about all aspects of design, from ideation to modeling to prototyping and the final product," Ip said. "This has proven so valuable."

One class that greatly influenced Ip was a furniture class taught by professor Tom Merriman.

"Though it lacked the same structure as the other design classes, it was the freedom that allowed me to learn as much as I did," she said.

"'Design a table,' 'design something to sit on,' 'design a light device.' Those were the parameters for our projects," said Ip. "It made me think about a need and how to fill that need. It allowed me to define my own style, to think about costs and keeping it affordable. It challenged me to figure out its construction and then, of course, to use the tools in the woodshop to actually create it."
Related Links: College of Fine Arts | School of Design | The New York Times article | Dwell Magazine article
---