Billy Porter Returns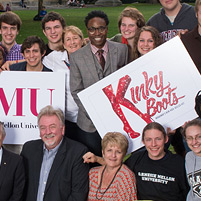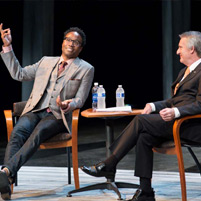 From his Pittsburgh roots to Broadway's hit "Kinky Boots," Tony Award winner Billy Porter (A'91) has been, in a word, unstoppable.

The Carnegie Mellon University alumnus returned to Pittsburgh and to campus this week, where he held a Q&A with drama students, had a Primanti's sandwich specially made for him and received a proclamation from City Councilman Bill Peduto.

Porter's Broadway credits include "Miss Saigon," "Five Guys Named Moe," "Grease (all original cast)," "Smokey Joe's Cafe" and "Dreamgirls" (20th Anniversary Broadway Concert and LA Ovation Award). His Off-Broadway credits include "Angels in America" (Signature Theater) with fellow CMU alumni Zachary Quinto (A'99) and Christian Borle (A'95).

Porter's film and television credits include Sundance Film Festival features "The Broken Hearts Club" (Sony Pictures) and "Intern"; "Noel" (with Susan Sarandon and Robin Williams); "Shake Rattle & Roll" (CBS mini-series); "Another World"; "Law & Order"; "The Oprah Winfrey Show"; and "The Tonight Show."

He is currently starring as Lola in the Tony Award-winning "Kinky Boots," for which he won the 2013 Tony Award for Best Actor in a New Musical.

At the Q&A held in CMU's Purnell Center for the Arts, Porter was asked how he is able to deliver eight non-stop shows per week.
Porter responded, "First of all, the technique that I received from being here at Carnegie Mellon has sustained me. I received the tools I needed all those many years ago."

Porter added, "I was also blessed enough in this particular situation to have the opportunity to create a role. So everything was built around what I could do, and more importantly, what I can't do. That's important for us, as artists, to understand."

Porter was referring to the high tenor voice he had while at CMU. School of Drama professor Gary Kline remembers that voice. 

"It soared in gospel style and flavor sometimes an octave higher than the rest of the men in his class," Kline recalled.

Porter acknowledged that he doesn't have that voice anymore. So for the ballad he sings in the second act of "Kinky Boots," he sings it in a key lower than even director Jerry Mitchell, who also knew him 20 years ago, expected.

"Everyone had to get used to this lower key because if they want me to do this eight days a week, this is the only way I can do it," Porter explained. "I knew what I couldn't do, so I created a way that I could do it."

About the responsibilities that accompany his role, Porter said, "The job does not begin and end on the stage. The job begins and ends when you wake up in the morning. It's all-encompassing. You have to be present for all of it."

Porter recalled having to build sets and be part of a stage crew when he was a student, something he didn't enjoy then but understands now why he had to do it.

"It is tortuous. Building sets is the last thing you want to do before you go and rehearse your scene at 2:30 in the morning," he said. The comment was met by a knowing laughter from the students in the audience.
"But it gave me such a sense of respect. When I walk into that building every day and that man is mopping that floor for me, and they're setting that stage to make sure everything is safe for me ... there is a respect that you gain from that kind of work in your freshman and sophomore years here."

"Kinky Boots" is the winner of six Tony Awards including Best Musical. Grammy Award winner Cyndi Lauper has made history with it as the first solo woman ever to receive the Tony Award for Best Score.

In the show, Charlie Price (played by Tony nominee Stark Sands) has suddenly inherited his father's shoe factory, which is on the verge of bankruptcy. Trying to live up to his father's legacy and save his family business, Charlie finds inspiration in the form of Lola (played by Porter). An entertainer in need of some sturdy stilettos, Lola turns out to be the one person who can help Charlie become the man he's meant to be.

As they work to turn the factory around, this unlikely pair finds that they have more in common than they ever dreamed possible. The theme of the musical echoes Porter's philosophy that sometimes the best way to fit in is to stand out.

Porter said, "I've learned that the only thing I can be is the totality of who I am, and to live inside the truth of who I am."


Photos
Top: CMU faculty, staff and students from the School of Drama welcome alumnus Billy Porter back to campus.
Bottom: Peter Cooke, head of CMU's School of Drama, moderates a Q&A with alumnus Billy Porter in Purnell Center's Chosky Theater.
Related Links: School of Drama | College of Fine Arts | About "Kinky Boots" | CMU Alumni Top Tonys
---