WAY Without Words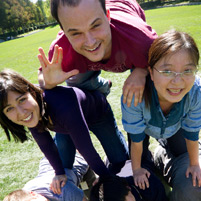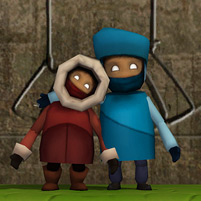 Screenshot from WAY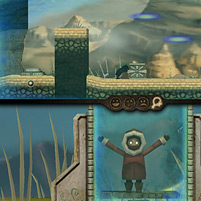 Screenshot from WAY
Let's make a game about communicating. Without text or speech.

This was the initial concept of WAY, a gaming experience with no shared spoken language.

The idea was developed by a team of students at Carnegie Mellon University's Entertainment Technology Center (ETC) to encourage cross-cultural communication and collaboration through play.

With their new online cooperative game WAY, strangers rely on each other to help solve puzzles, and interact via shared virtual body language.

"You and your mysterious partner journey from opposite ends of the earth, traveling toward each other while overcoming the obstacles that separate you," explained Walt Destler (CMU'11), co-programmer and co-designer.

"You each see the world differently, and, at times, one of you will know something about the world that the other does not — such as the location of an invisible trap or where to jump next — and so you must share this knowledge to progress."

And it's all done without words.

"Waving arms could easily mean stop or jump, so choosing how to speak, or deciphering what your partner is trying to tell you, is part of the puzzle, " Destler said.

The team created WAY to address a shortcoming they see in online games.

"The reason few games work across cultures is due to a problem of communication. Players assume they have nothing to offer each other because they feel like they can't engage with someone they can't speak with," Destler explained.

"We hope that our game teaches players that they can — if they try — communicate with others across the Earth. We hope players will find that they have more in common with each other than they previously thought."

Destler and company believe that digital games are the great artistic medium of the 21st century.

"There's so much unexplored territory. It's a fascinating time to be in games right now because we're still figuring out what this medium is capable of."

And he feels CMU is the right place to be because it brings many types of people in art, technology, business, and other fields together in one place.

"To us it makes perfect sense that the Entertainment Technology Center, where we created WAY, was founded at CMU. The school's great history and support of innovation and exploration makes for a great atmosphere in which experimental games like WAY can be crafted."

While WAY is still just a prototype — created in about 12 weeks — players' responses have been remarkably heartfelt. 

The team is now seeking funding partners to help take it from prototype to a fully-realized commercial game with more polish and more puzzles.

"You can also expect a Kickstarter campaign with some neat rewards soon so that fans can help us get there," Destler said.

WAY is an IndieCade 2011 Developer's Choice Winner and an Independent Games Festival 2012 Nuovo Finalist. Team members include Chris Bell, Destler, Cynthia Jiang, Katherine Rubensetein, Hugo Shih and Paulwei Wang.

The ETC's Master of Entertainment Technology degree is jointly conferred by Carnegie Mellon's College of Fine Arts and School of Computer Science.

Co-created by Don Marinelli and the late Randy Pausch, the program is designed to foster collaboration between technologists and fine artists on projects intended to entertain, inform, inspire or otherwise affect audiences.

Related Links: WAY | ETC | Building Virtual Worlds | The Last Lecture
---