SMASH Premiere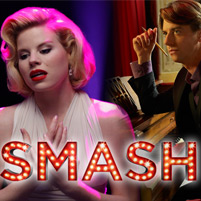 Megan Hilty and Christian Borle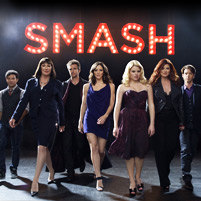 Cast of SMASH
Christian Borle (A'95), Megan Hilty (A'04) and Leslie Odom, Jr. (A'03) — selected by an elite casting team including Executive Producer Steven Spielberg — star in the highly anticipated television show "SMASH" on NBC.

The show centers on the behind-the-scenes excitement of creating a Broadway musical about the life of Marilyn Monroe.

"Audiences are going to get smart television, great music, and they're going to see what it really is like behind the scenes," Borle said.

Borle's character, Tom Levitt, is a composer and half of a successful songwriting team. The other half is Debra Messing's character Julia Houston and their music will fuel what they hope will be Broadway's next big hit.

Hilty plays Ivy Lynn, a feisty Broadway veteran who is the obvious choice for the lead in the show before her chances are threatened by a newcomer. 

"I think a lot of people can relate to Ivy Lynn. She's been in the ensemble for about 10 years and she's just dying to make that next step to leading lady. I think a lot of people can relate to feeling stuck in their jobs; you don't have to be in theater," Hilty says of her role as Ivy.

Odom made his Broadway debut at age 17 starring as Paul in the hit musical "Rent." Since perfecting his craft at CMU's School of Drama he has had recurring roles on several television shows prior to his current role as Sam Strickland on "SMASH."

All credit CMU as the foundation for their success.

"Aside from the techniques we learned, CMU really prepared us for this hectically creative lifestyle. Anytime I have a hard day I look back and think, if I made it through those days, I can make it through anything," Hilty said.

In addition to studying their craft, the people that they met at CMU guided them and continue to serve as mentors in their careers.

"It was an extraordinary group of teachers," Borle said. "They didn't just make me the actor that I am, they contributed to the man that I am."

Gary Kline, a CMU associate professor of musical theater who instructed both Borle and Hilty, recalls Borle developing "a wonderful voice with real power, which, combined with his vivid imagination, made him fascinating to watch."

He added, "Christian loved the technical work, and did it with gusto. But it was his originality that set him apart. This is a huge and well-deserved step into the television market for him with SMASH."

What he remembers most about Hilty was her ability to focus and deliver a complete heartfelt performance every single time.

"She never once wasted an opportunity to hone her craft to the highest standards," he said.

Don Wadsworth, a professor of voice, speech and dialects at CMU, said, "It's quite common for us to open the New York Times or Variety Magazine or any number of Industry-oriented websites and see our alums in high-profile theater, television or film productions.  It is a thrill to see that sort of validation of the training and our belief in the talent of these performers come to fruition.

Wadsworth says the fact that so many CMU actors have proven themselves over the years has paved the way for the performers who come after them to be looked on favorably. 

"Having a BFA from CMU does not mean these folks will get cast automatically; they still have to work hard to earn their roles. But they very well might get the chance to be seen by the agents and casting directors who can open doors for them."
Related Links: SMASH on NBC | School of Drama
---