Oscar Night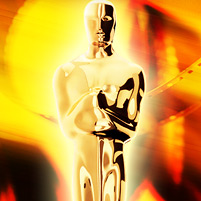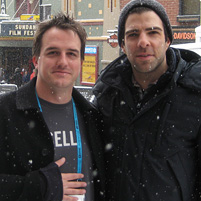 Neal Dodson and Zach Quinto at the 2011 Sundance Film Festival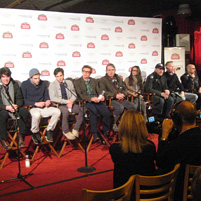 Margin Call press conference *
They forged a tight friendship in the School of Drama at Carnegie Mellon University.
Years later, Neal Dodson (A'00), Corey Moosa (A'00) and Zachary Quinto (A'99) decided to pool their talents and form the production company Before the Door Pictures.

Just recently, their first major motion picture "Margin Call," starring Kevin Spacey, was nominated for an Academy Award for Best Original Screenplay.

"It feels great. We're very happy for our writer J.C. Chandor, of course. It's very encouraging for a tiny movie and small company, like ours, to be recognized by the industry, especially our first film," said Dodson.
"Hopefully, it means we get to keep doing this for a while."

Producing is loaded with challenges, he says, the hardest of which is knowing when to walk away from a negotiation.

"Sometimes your only remedy to move a project forward is to stop working with a financier or stop waiting for an actor to decide if they want to do a project. And that can be very scary."

"Margin Call" was one of the first notable sales of the 2011 Sundance Film Festival.

Dodson says they are humbled and grateful, and like to think of the Oscar nomination as just their first small success — a success whose origins they can trace back to their CMU education.

"The classic arts education we got at CMU — and the creative relationships we made there — have made us stronger collaborators, and in many cases, provided us with the very people we are making films with now," said Dodson.

Of their first three movies, two have been directed and written by CMU alumni. "And we have several more like that in the works," Dodson said.

Also among the Oscar nominees were "The Artist," featuring CMU alumnus James Cromwell (A'64) and "Warrior" featuring CMU alumnus Nick Lehane (A'09) as well as several CMU students as extras.

"The Artist" was nominated for Best Picture, Best Actor (Jean Dujardin), Best Supporting Actress (Berenice Bejo), Best Director (Michael Hazanavicius), Best Original Screenplay, Best Art Direction, Best Cinematography, Best Original Score, Best Costume Design and Best Film Editing.
It won Best Picture, Best Actor, Best Director, Best Costume Design and Best Original Score.
"Warrior," which was filmed in Pittsburgh, was nominated for Best Supporting Actor (Nick Nolte). CMU professor of voice and speech Don Wadsworth coached British actor Tom Hardy and Australian actor Joel Edgerton to sound like the American sons of Nick Nolte's character.

CMU alumni have received six Academy Awards to date. Additionally, our alumni have won 97 Emmy Awards and 22 Tony Awards. (See the list.)

The School of Drama's alumni include innovators and leaders in the film, television and theater professions and related arts/entertainment industries who are actors, directors, dramatic writers, production designers, crafts persons, technicians, technical managers, producers and imaginative visionaries.

"Innovative teaching, committed students and a supportive university leadership have placed CMU's School of Drama in the top echelon of theater training institutions worldwide," said Peter Cooke, professor and head of the School of Drama.

* Bottom photo: Margin Call press conference at the 2011 Sundance Film Festival (l. to rt.) Sundance senior programmer David Courier; director/writer J.C. Chandor; producer/actor Zachary Quinto; actors Penn Badgley, Simon Baker, Jeremy Irons, Demi Moore, Kevin Spacey, Paul Bettany, and Stanley Tucci.
Related Links: Margin Call | Pittsburgh Tribune: Working-Class Poetry Drew Warrior Here | Speaking of Dialect | More on Don Wadsworth | Before the Door Pictures | Before the Door on Facebook | School of Drama
---