Extra, Extra dot com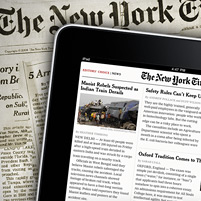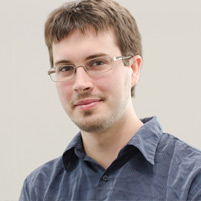 Daniel Schultz
Print media is struggling to reinvent in our increasingly digital world. Two Carnegie Mellon University alumni are helping to bridge the gap.

Cameron Brown is director of technology for e-commerce and customer data systems at NYTimes.com.

There Brown oversees digital billing, email, registration and more. His team is responsible for building the Times' recent move into digital subscription — the 'pay wall.'

"Print isn't dead yet, and I believe there will likely remain niche markets," said Brown (DC'95). "But big picture, the medium isn't going to recover."

He explained, "My role, as I see it, is to help one of the most important sources of quality news and information transform itself. The challenge is turning it into a digital-oriented business that can profitably sustain itself without sacrificing that which makes it great — a real newsroom."

Daniel Schultz (DC'09) is a more recent entrant into the field. He was recently named a 2012 Knight-Mozilla Fellow and beginning in May, will be based at the Boston Globe, helping to develop their tablet apps, website and other R&D projects.

"Many people have used words like 'dying' when describing print news, but 'shrinking' and 'changing' would be much more apt," said Schultz, who is currently a master's candidate at the MIT Media Lab. "Journalism, however, is absolutely in for the long haul although its model and medium is shifting."
 
Schultz added, "How the two fit together, how the end format changes with the medium, and how technology can be used to enhance the collection, distribution and consumption experience — that's where people like me come into the picture. I'm optimistic for the future of journalism and community."
 
Brown, a 1995 Truman Scholar, says he took a "circuitous" route to his current position, including volunteer work with AIDS relief and forays into yoga, nightclubs and fashion design.

"Ultimately, my tech background won out in every job that I took," said Brown. "My current position brings me full loop, as my role now requires a strong background in engineering, business and finance, all of which I can directly tie to my time at CMU."

He added, "The breadth and depth of CMU was a key factor in giving me the exposure to multiple disciplines necessary to navigate my career.  An amazing work ethic embodied in the motto 'My Heart is in the Work' has been critical to having the fortitude to see through intransient projects such as the pay wall."
 
Schultz's route was also indirect, as he "tripped and fell into it" by winning the Knight News Challenge for a sophomore year professional writing project.

"I've always been motivated to bring groups of people together through technology," he explained. "It turns out that this is an important field full of interesting and unsolved challenges — the perfect place for any noble techie looking for a chance to stay creative."
 
Added Schultz, "CMU was spectacular and had so many outlets for passion. I had the chance to work closely with my professors thanks to research opportunities. The Information Systems program trained me for exactly the kind of work I'm doing now — applying technology to solve problems and thinking through the user experience."

Brown, currently the president of CMU's New York Metro Alumni Chapter, says he'd welcome fellow alums at NYTimes.com. "We're looking for talented engineers, architects and managers who have a passion for building great software."
Related Links: NYTimes.com | BostonGlobe.com | Truman Scholarship | Schultz's thesis | Carnegie Mellon Today story on Schultz | Schultz HSS interview | MIT Media Lab | NYT careers
---