Centennial Celebration
Invitation from Liam Bonner
School of Music Proclamation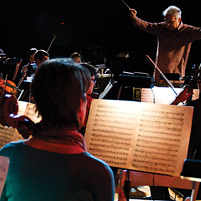 This year Carnegie Mellon University's School of Music celebrates its 100th anniversary.

As part of the celebration, CMU will unite one of the largest groups of the school's world-renowned alumni ever assembled to perform in two spectacular concert events — in Pittsburgh and in New York.

Among the outstanding performers: alumni who have been featured at The Metropolitan Opera, New York Philharmonic, Chicago Symphony Orchestra, Pittsburgh Symphony Orchestra, and in productions of Ragtime, Phantom of the Opera, and Jersey Boys.

The distinguished alumni performers will span six decades of CMU graduates and will be paired with 200 world-class students at these two gala events.

School of Music senior Emma Steele (A'12) will join featured alumni in the performances. Steele has participated and won awards in many competitions, most recently in the Sibelius International Violin Competition, in which she was a finalist and received the Young Talent Prize.
She currently studies with School of Music faculty member Cyrus Forough.
The school prides itself in preparing musicians to be entrepreneurs with a keen eye for opportunity. And it places the one-to-one work of the student and teacher at the heart of the musical experience — a tradition passed along since the school's founding in 1912.

"The faculty and staff absolutely inspire and push the students to become the best musicians, the best artists that they can be," said Liam Bonner (A'03), Metropolitan Opera star and CMU alumnus.

"Between myself and my colleagues that were in my class, or ahead or behind me, knowing where they are in the world performing today speaks volumes about Carnegie Mellon's reputation for being a world-class music school."

CMU alumni populate the ranks of the most prestigious orchestras, opera companies, musical theater productions and conservatory faculties around the globe. Check out list »

Since its founding, part of the school's core mission has been the creation of new knowledge and innovative means for making music useful in practice.

Dale Clevenger (A'62), principal horn for the Chicago Symphony Orchestra, has carried this mission throughout his distinguished career.

"I try to be a problem solver and an inspirer. And I got the core of that from Carnegie Mellon."

Clevenger added, "To describe what it was like to go to school here in 1958 and in the '60s requires a comparison, and I don't have one. It was great. It was gaga for me. Not Lady Gaga but wonderful, you know?"

The School of Music celebration kicked off in January at the Doubles Club at the Sherry-Netherland Hotel in New York City, with a performance by Jeffrey Behrens (A'03) and Bonner (A'03), both of whom are highly sought-after opera singers.

By proclamation, the Council of the City of Pittsburgh declared  Feb. 28 "The Carnegie Mellon School of Music Day" in recognition of the 100th Anniversary of the School of Music. Watch on YouTube »

Join CMU and the School of Music as they continue to celebrate this historic milestone throughout the year with capstone events at Pittsburgh's Benedum Center on March 31 and at New York City's Carnegie Hall on April 2.
CMU School of Music students, faculty, staff and family of student performers along with all CMU alumni are eligible for up to 2 complimentary tickets to the concerts.  Get details and buy/reserve tickets »
Related Links: Orchestral Ties | School of Music | CMT Jan/2012 Alumni Voice profile "Hornblower" | CMT July/2009 feature "Maestro" | CMT July/2009 Fence story "Amazing Grace" | CMT Jan//2008 BTC story "Feel the Wrath"
---