Peter Nimble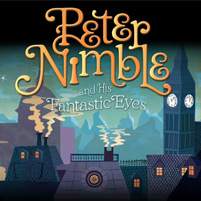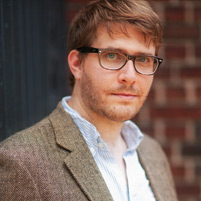 Jonathan Auxier
He's a blind boy — and the greatest thief who ever lived.

That's how author Jonathan Auxier (A'05) describes the main character of his first published children's book, "Peter Nimble and His Fantastic Eyes."

The Carnegie Mellon University alumnus praised his alma mater's dramatic writing program for being critical to his success.   

Equally passionate about theater and writing, Auxier deliberately sought out a program that would allow him to pursue those two careers concurrently — and he found it at CMU.

"I am so incredibly grateful I took the path I did," Auxier said. "The focus on dramatic story structure in CMU's dramatic writing program is the best education any writer can have — it prepares you not just for theatre, but any storytelling medium. Graduates of the program go on to write plays, musicals, television, movies and books."

 "The program trains writers to look at a story and see the structure underlying it — that is the only thing that will keep you from getting lost, from drowning in your story. It's all about seeing the forest through the trees."

"Peter Nimble and His Fantastic Eyes" is a story about a blind orphan who learned how to be a thief. Upon stealing a box that contains three pairs of magical eyes, he tries the first pair and is suddenly transported to a hidden island where he is presented with a quest: journey to a vanished kingdom to rescue people in need. 

Along with his loyal sidekick, Peter embarks on the adventure to discover his true destiny. 

Peter Nimble has gone on to win wide acclaim. The book was a BookPage Magazine "Best Book of the Year," a 2011 ABA New Voices selection, and was a 2012 finalist for the Monica Hughes Award for science fiction and fantasy.

Auxier started writing "Peter Nimble and His Fantastic Eyes" while at CMU when he was supposed to be writing his thesis screenplay.

"I was really struggling to sort myself out as an artist. I actually started writing the manuscript for Peter Nimble in an act of desperation," he said. "Something in the creation of this book brought clarity to why I was in this program and gave me a much better understanding of who I was and what I wanted to do in the world."

Auxier says one of the mistakes he feels he was making, which is common in young writers, is the desire to please some kind of external audience.

"Writing Peter Nimble was an act of ignoring every outside voice, every critical censor. It was an act of just sitting down to write something that I, as a nine year old kid, would have loved to read," he explained.

Auxier is now living in Pittsburgh again after having worked in L.A. for a number of years as a screenwriter.

"One of the main reasons I moved back to Pittsburgh is that my time here while I was at CMU was so wonderful and fun," he said. "Pittsburgh is a magnificent city. Dramatic writing at CMU is a wonderful program. And the years I spent in the program were the most rewarding in my life. It felt right to come back."

So what's next for the screenwriter-turned-author? "I have a couple of movies in the works right now," he said. "I'll also be touring with Peter Nimble in schools and festivals throughout the country. But my real focus is on writing the next novel. I have a lot of young readers clamoring for more stories — they can be a pretty demanding crowd."
Related Links: PeterNimble.com | About the Dramatic Writing Program | School of Drama | College of Fine Arts
---