Perfectly Composed
Piano Concerto Mvmt 1 (Excerpt)
Piano Concerto Mvmt 2 (Excerpt)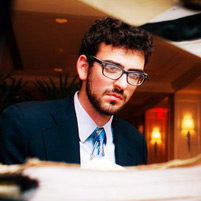 Alex Weston
The appreciative audience took in the chamber ensemble's debut of 'Piano Concerto,' making comparisons to greats like Stravinsky and Gershwin. Alex Weston (A'11) couldn't have been more pleased — the young composer was barely a year out of Carnegie Mellon University's renowned School of Music when his piece premiered.

Weston began playing the piano and composing as a preschooler in New Jersey. While in high school, he studied composition with CMU alumnus Adam Waite (A'00), the co-director of the Lyrica Chamber Music Ensemble.

When it came time for college, Weston auditioned for Waite's former professor and mentor, Nancy Galbraith and promptly enrolled in the music program at CMU's School of Music, celebrating its centennial this year.

"When I accepted Alex into my studio, he became my first 'second-generation' student," explained CMU Music Professor Galbraith. "That is, one who's mentor was one whom I mentored! And they are both accomplished jazz pianists."

As a sophomore, Weston entered Lyrica's Young Composers Competition and won with his string quartet. In preparation for Lyrica's 25th anniversary concert two years later, Waite contacted Weston to commission a piece — even though he was still a student.

Lyrica's 25th anniversary concert also debuted a composition by Galbraith, 'Four Nature Canticles,' with four CMU alumni performing as ensemble musicians.

"With the concert featuring our two premieres, both conducted by Adam, an unstated theme of this event was that of 'mentors and students,'" said Galbraith.

Weston notes that his CMU experience prepared him well for the challenge.

"Nancy was a phenomenal teacher who really brought my music along," he explained.

"And at CMU, concert composers are able to have a piece both rehearsed and performed by the CMU Philharmonic," he added. "To have a full 80-piece orchestra do that is a very unique opportunity that very few music schools offer. It was extremely helpful, particularly when I was writing a concerto a year later."

Working now as a freelance musician based in New York and assistant to noted composer Philip Glass, Weston is still enjoying the power of the CMU network.

"Most of the work I've done in the city has been because of other CMU alumni," said Weston. "There's a very strong CMU connection in New York, especially in the music scene."

"Alex is an extremely driven, innovative and passionate artist," added Galbraith. "His 'Piano Concerto' was a great success and I have no doubt that this will lead to many others. He has a bright future."
Related Links: School of Music
---