May the Fourth be with You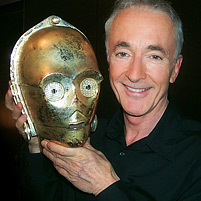 Anthony Daniels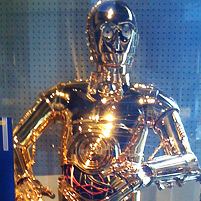 Figure of C-3PO at the San Diego Museum of Man
What do Star Wars and Carnegie Mellon University have in common?
Anthony Daniels — the actor who played C-3PO — one-half of the best-known droid team in a galaxy far, far away.

Daniels has been advising projects at CMU's Entertainment Technology Center since 2004 when CMU faculty met him at a robotics event in Pittsburgh.

"What a privilege," he said. "Carnegie Mellon's Entertainment Technology Center is a very unusual and special place, a bright star that casts its radiance on entertainment around the planet."

He added, "The program is a brilliant joining of the theatrical with the technical, pushing the students to widen their skills beyond the computer keyboard. I am enthralled by what the students can do with their brainpower."

At the moment, Daniels is getting ready to host Star Wars — In Concert in Japan, after having toured Europe and America twice.

"Each night thousands of people filled the arena to thrill to George's [Lucas] story and John's [Williams] music. The energy, enthusiasm and love simply poured out towards us on stage," Daniels said. "I realized that the Star Wars saga is hugely important in the timeline of families around the world; a story that is shared now by three generations. I'm rather proud."

Daniels knows his gold-plated, wire-jointed character has been the inspiration for many students to study robotics. But what is it that has made C-3PO so endearing to so many fans?

"Humans have a love/hate relationship with machines. More and more we are relying on them. C-3PO is a non-threatening, human-cyborg interface. He expresses human frailties and doubts that we all have inside but that most grown-ups try to hide."

"Also," he said, "humans look for the human in the non-human — a dog with big brown eyes, a machine that expresses feelings. And poor C-3PO has no sense of humor. He's vulnerable, so we want to make sure he's okay."

Being inside the suit was a very different experience, though, he said, referring to bruises, scratches, cuts, frustrations and isolation.

"The excitement on set can quickly turn to tedium but the huge success of the saga made it all worthwhile. With hindsight."

Mk Haley, associate executive producer of CMU's ETC says Daniels continues to be "an invaluable part of our program, both advising projects here when he visits, as well as our new global location in Salford, England."

Drew Davidson, acting director of the ETC, praised Daniels' project critiques.

"Anthony shares a wealth of experience and expertise with our students," said Davidson. "He is always reminding student teams that the most important thing is the experience you want your guests to have."
Related Links: Anthony Daniels interview [video] | Entertainment Technology Center | CMU's Robotics Excellence | Robotics Institute | Star Wars Day
---