A Transforming Experience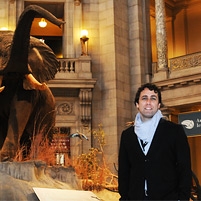 Samir Bitar
As an artist and a dancer, Samir Bitar (HNZ'07) had never really thought of himself as a quantitative person.

But now that he is equipped with a Master of Arts Management degree from Carnegie Mellon University's Heinz College, he is transforming the way visitors experience the Smithsonian's Museum of Natural History.

Bitar serves as chief of visitor experience at the Smithsonian. Whether he's reviewing a report on the feasibility of moving a museum restaurant or listening to ideas for the next marketing campaign, Bitar is always looking for a better way to do things.  

"Year after year, I want to encourage more innovation at the Smithsonian, and knowing how we are reaching the visitor is fundamental to the decisions we are making about how we market ourselves," he said.
 
Bitar says a number of things unique to the MAM degree help him daily in his work.
 
"We are building technology, which I was never intimate with until I went to CMU. I took database classes that taught me not just how to use software but what is behind the software and how these things work," he explained. "When I got to the Smithsonian, I inherited the website. While I never dug too deep into web design, I was able to take a top-level look at it and say, 'I know we can do better.'"
 
Some of Bitar's most memorable experiences at CMU are the times he spent talking with his friends from all disciplines.

"I met actors, people doing policy work or studying the humanities — there were always these fantastic conversations that drove us to see each other's work through new lenses," Bitar said. "It rooted the theory in the practical, and it's a transforming experience where I'm able to look at a product that needs enhancement and come up with a solution. But I would not have had that solution if I had not gone to CMU."

Program director Kathryn Heidemann (HNZ'04) says MAM students are well-equipped for a career track to be leaders in arts organizations and agents of change in the field.

"We are the only arts administration program in the world that houses an arts and technology research center or an experiential arts laboratory for visual and performing arts management," said Heidemann.  

While other programs have students complete a "traditional" individual thesis paper, MAM students complete a capstone project. They work as a team of management consultants to develop a set of solutions for a particular problem or opportunity for a real-life client.  

"Additionally, our double-degree program with the University of Bologna and exchange program at University of Ludwigsburg puts us at the forefront of fostering cultural diplomacy and international arts exchange," Heidemann said.  

Offered through a joint partnership between CMU's Heinz College School of Public Policy & Management and its College of Fine Arts, the MAM program is designed to create innovative leaders in the visual and performing arts.

The program combines rigorous finance, marketing, technology and fundraising coursework with practical experience to prepare graduates to excel in public, private or nonprofit arts environments.

Having recently celebrated its 25th anniversary, the MAM program boasts more than 600 graduates. MAM alumni work for some of the most prestigious arts institutions around the world such as the Smithsonian, the Guggenheim and the Mori Arts Museum.
 
And with a rigorous management degree that transcends all disciplines, many MAM alumni also have enjoyed successful roles at organizations such as Google, eBay and Amazon.
Related Links: MAM Program | Heinz College | School of Public Policy & Management | College of Fine Arts | Smithsonian's Museum of Natural History
---