Empowering People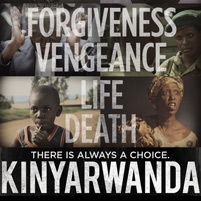 Producer Tommy Oliver's movie Kinyarwanda needed the right mixture of people to do the story — and its subjects — justice.
The film takes place in Rwanda during the 1994 genocide. It tells the true stories of people who crossed lines of hatred to protect one another.
"It's really a story about hope, perseverance and religious tolerance in the midst of something terrible," said Oliver (HS'06), a Carnegie Mellon University alumnus.
The story is an official selection of the 2011 Sundance Film Festival.
"Ultimately, it's about the resolve of the human spirit to save one another," added Oliver, who earned a degree in economics from the university. "These are their stories of faith, family, courage and forgiveness."
As a student, Oliver began to develop a passion for social commentary within film. Through a CMU connection, he found an opportunity to pursue this important work.
Rewind to 2006: the film's director, Alrick Brown, accepted an invitation from a student group to speak at the university.
A few years later, while Oliver was a juror at the Langston Hughes Film Festival, one of Brown's films was playing. The two re-connected. The rest is history.
Oliver hopes people leave the theater feeling empowered.
"And maybe just a tad more tolerant of people who don't look like them, or of religions not quite like theirs."
About choosing CMU, Oliver says it was "easily one of the best decisions I've ever made. It just felt right when I came for sleeping bag weekend."
He chose the university because of "its reputation for academic excellence."
Oliver says he valued CMU's unique positioning as a top-tier school across varying disciplines — from computer science to business to drama.
And the education paid off. Having his movie accepted to Sundance, the premiere showcase for independent films, is huge.
"It's humbling, and also amazing because it will provide a much better chance for it to make a splash and to have a positive impact while inciting the meaty conversations that are important," Oliver said.
"For me, it has been a very rough road to get to a place where I can begin to make the kinds of films that are important to me — those rife with social commentary," he said.
"But Carnegie Mellon has played a large part in getting me to this point and I look forward to where things will go from here."
A variety of CMU students, alumni and faculty members are attending Sundance Film Festival — including students from Heinz College's Master of Entertainment Industry Management (MEIM).
Several School of Drama alumni are involved in both competing and premiering films. "Margin Call" was produced by CMU alums Neal Dodson (A'00), Corey Moosa (A'00) and Zachary Quinto (A'99).
Actor Patrick Wilson (A'95) stars in "The Ledge;" his wife Dagmara Dominczyk (A'98) stars in "Higher Ground."
Blair Underwood (A'88) filmed "Homework." And Katy Mixon (A'03) stars in "Take Shelter."

Related Links: Kinyarwanda on Facebook
---