Steelers Mania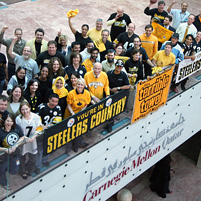 This week, football may be the most popular field of study at Carnegie Mellon University.
From showcasing fan rituals to analyzing superstitions to creating technology that could change the way referees officiate the game.
Our faculty and students at CMU offer a variety of perspectives on the big game.
Whatever It Takes A first-of-its-kind exhibit at Carnegie Mellon University's Miller Gallery, curators Jon Rubin and Astria Suparak say it shows how Steelers fans brilliantly meld the team's identity with their own.

Superstitions Carey Morewedge, assistant professor and an expert in judgment and decision-making, published research that shows when something goes wrong, fans tend to blame external influences. (i.e. The referees were conspiring against their team. Or the league is fixed.) But when things go right, they attribute it to the talent and skill of the players.
Fans & Rituals Got a lucky Steelers shirt you must wear to ensure the team is victorious? Michael J. Tarr, professor of cognitive neuroscience and co-director of the Center for the Neural Basis of Cognition, can explain why fans believe rituals actually help their team.
No Need for Review Imagine a referee who doesn't make mistakes. CMU engineering professor (and football fanatic) Priya Narasimhan works with her researchers on technology that will significantly change how refs officiate the game.
Saving Your Voice Crowd noise is effective, and the Steelers encourage it. Douglas Ahlstedt, associate professor of voice and chairperson of CMU's vocal department, has tips for fans who want to have their voices in tip-top shape for the game. Want to scream into overtime? He can tell you how.
New "Steelers Opera" And speaking of being in good voice, Ahlstedt and his students created his third "Steelers Opera," singing to the "Toreador" chorus of Bizet's "Carmen." (Watch video.)
The Super Bowl & the Working Class Kathleen Newman is an English professor and a regular contributor to the Center for Working-Class Studies in Youngstown.  In her research, she studies the relationship between popular culture and class, past and present.
Walking in Pittsburgh CMU alumnus and employee Tim Ruff wrote and performs the clever lyrics of "Walking in Pittsburgh." The song is based on Marc Cohn's hit "Walking in Memphis." It features references to the Steelers and all things Pittsburgh. (Watch video.)
And one of our favorite Steelers memories?
Randy Pausch — the beloved CMU professor and alumnus behind The Last Lecture — having his childhood dream of playing in the NFL realized when the team invited him to join them for practice before the last Steelers' Super Bowl appearance.
Here's to the dream — and knockin' on seven's door. Go Steelers.
Some say that "Steelers Nation" is truly a worldwide phenomenon. And we might agree. Pictured here are students, faculty and staff at Carnegie Mellon University in Qatar, celebrating the Steelers' trip to the Super Bowl.

Related Links: NFL.com: Randy Pausch | The Los Angeles Times: Smart Football | CNBC | Miller Gallery
---