Sister Act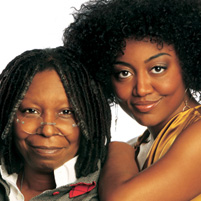 Imagine the thrill of looking up at the marquee on Broadway and seeing your own face.
It's a dream come true for actress Patina Miller (A'06) who shines in the leading role of Sister Act: A Divine Musical Comedy.
The show opens in April.
"I'm playing the role made famous by Miss Whoopi herself, Deloris Van Cartier," Miller said of her idol, Whoopi Goldberg.
And in Miller's words, she is "super excited" about that.
"She's a lounge singer with big dreams who happens to be involved with a bad guy. She's very funny, loud, energetic, selfish, passionate, driven ... she will stop at nothing to reach her dreams of becoming a star."
Miller got to meet Goldberg in London prior to the musical's debut run at the Palladium.
"I've looked up to her for so long and have long admired her work. It was a moment I'll never forget," said Miller.
Carnegie Mellon Professor Gary Kline remembers Miller well.
"Patina auditioned for me in Chicago. I was auditioning the hundreds of high school seniors who applied to our Musical Theater Program," Kline recalled.
"It didn't take me long -- maybe three notes -- to know she was an exceptional talent. She was a keeper."
During her sophomore year, Miller took her first voice lesson with Kline.
"My jaw dropped again. This young lady could 'belt' up to a high A flat. Unbelievable." he said.
Don Wadsworth, a professor of drama at the university, echoed Kline's praises.
"Patina was clearly a dynamic young singer. She could always tear up a song and leave the room breathless," Wadsworth said.
"But I must say she also knew how to handle the acting end of things, too. She is a strong young woman and brings herself into the work which always makes it look authentic and moving."
While extremely pleased, Wadsworth is not surprised by her success.
"She showed signs of greatness with real humility in her training in this conservatory program," he said.
Miller said CMU was a big part of her life.
"It was there that I studied and really realized that I could make my dream a reality," she said.
"I'm so thankful to all my teachers who helped me to become the performer I am today. I'm so proud of my school and feel so blessed to have gotten such a wonderful education and made lifelong friends."


Related Links: School of Drama
---